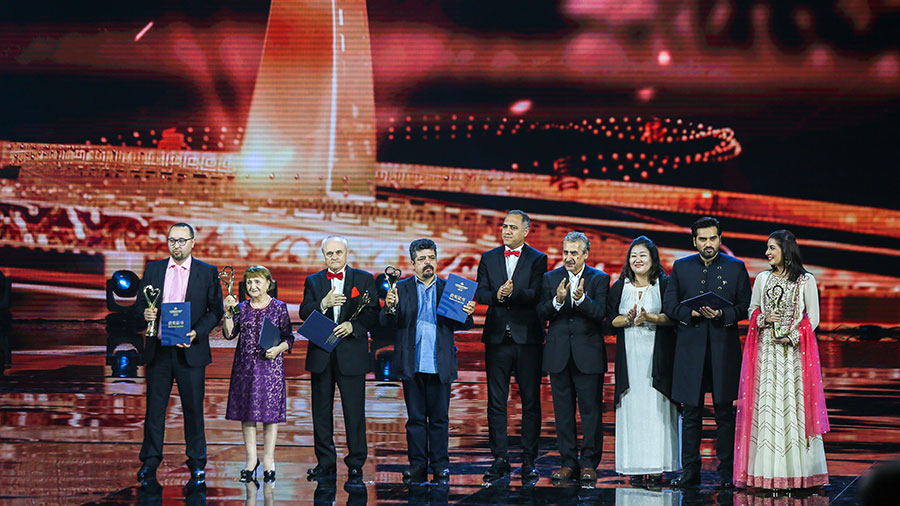 Filmmakers from member and observer states of the Shanghai Cooperation Organization receive the Special Jury Awards at the SCO Film Festival. The awards went to the films Yo'L Bo'Lsin (Uzbekistan), Air Safar (Tajikistan), Mermaid (Iran), Punjab Nahi Jaungi (Pakistan) and Tum-Pabi-Dum (Belarus). [Photo provided to China Daily]
The curtain has dropped on the first SCO Film Festival, an event that gathered together talent from the 12 Shanghai Cooperation Organization member and observer states to boost cultural exchanges and cinematic cooperation.
On the closing night, the Chinese movie Enter the Forbidden City and Mina Walking from Afghanistan jointly won the best picture prize of the Golden Seagull Awards, the festival's top honor. Yosef Baraki, the filmmaker behind Mina Walking-a 110-minute tale of a 12-year-old Afghan street seller named Mina-took home the award for best director.
Directed by veteran filmmaker Hu Mei and starring actress Ma Yili, Enter the Forbidden City recounts the rise of Peking Opera under the reign of emperor Qianlong during the Qing Dynasty (1644-1911). It was also the opening film of the festival.
Nearly 60 movies were screened more than 260 times in 10 cinemas around Qingdao, Shandong province, for nearly 50,000 people during the five-day festival.
"It was the first time that most of the movies had been screened in China. It gives Chinese audiences a chance to see films with unique characteristics that represent the respective countries' cinematic culture," says Sun Xianghui, director of the China Film Archive.
"Some films from Afghanistan were widely praised by the selection panel. These movies revealed an authentic, modern country that is quite different from the image of Afghanistan depicted in most Western movies," says Sun.