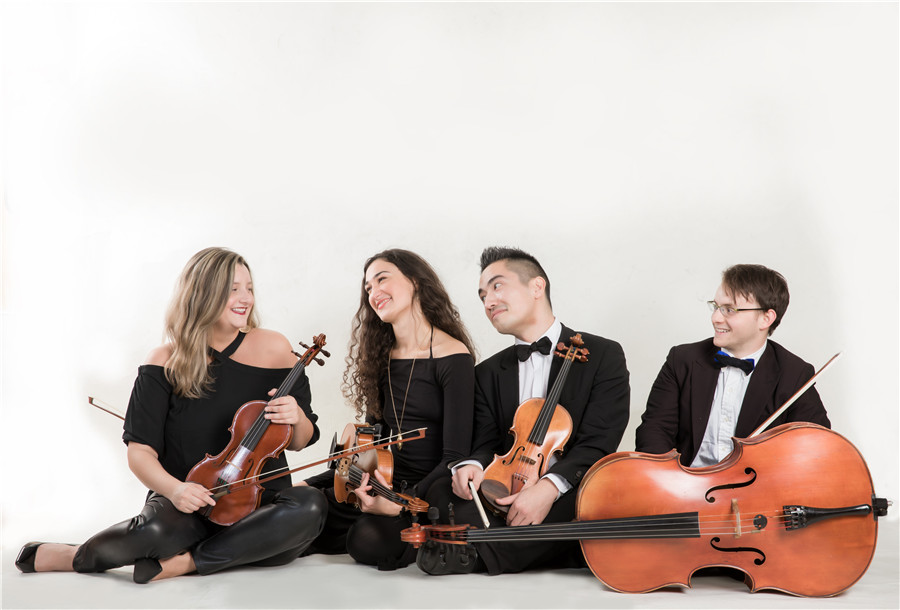 The Black Velvet String Quartet is among nearly 800 artists from 44 performing arts groups from 19 countries and regions, who will perform in the capital's largest annual festival, Meet in Beijing Arts Festival. [Photo provided to China Daily]
All roads lead to the capital in May for the 18th Meet in Beijing Arts Festival, which is set to take on a distinctly Italian flavor this year. 

The capital's largest annual celebration of dance, music, drama and art, the Meet in Beijing Arts Festival, will bring nearly 800 artists from 44 performing arts groups from 19 countries and regions to Beijing.
With 130 performances, three art exhibitions and a number of public-art education activities, the festival-which is now in its 18th year-will kick off on April 27 and run through May 31. It will provide audiences with a lavish and diverse choice of events.
Italy will be the guest country of honor at this year's festival, the organizers announced on April 3. Picking a main guest country each year has been a festival tradition since it started in 2000.
This year, the opening show will be held on April 27 at the National Center for the Performing Arts, which will see the Beijing Symphony Orchestra play tunes from classic Italian operas and Chinese songs, including Overture to Il Barbiere di Sivigli by Gioacchino Rossini and excerpts from Il Trovatore by Giuseppe Verdi under the baton of Chinese conductor Tan Lihua and Italian composer and conductor Andrea Molino. Well-known Chinese violinist Lyu Siqing and Italian singers mezzo-soprano Daniela Pini and soprano Anna Roberta Sorbo will join the concert.
"This is the first time that Italy will be the main guest country during the Meet in Beijing Arts Festival and we will bring a series of Italian artists, some of whom will be making their debut performances in the capital," says Franco Amadei, cultural counselor of the Italian embassy in China.
One of the highlights will be TeoTronico, a pianist robot invented by Italian classical pianist Roberto Prosseda in 2012. TeoTronico, who performed with Chinese pianist Lang Lang on CCTV in 2017, will play with his "father" at the Beijing Concert Hall on May 31 and June 1.