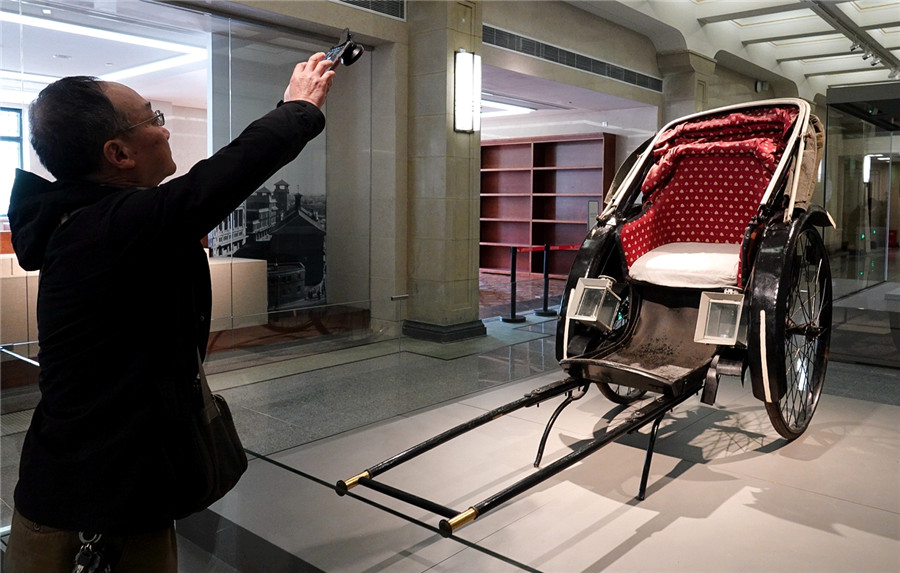 A huangbaoche pedicab is shown at the newly reopened Shanghai History Museum. [Photo by Gao Erqiang/China Daily]
The Shanghai History Museum has reopened in two historical buildings to display many items related to the city's legacy for the first time. 
The Shanghai History Museum's (Shanghai Revolution Museum's) most important exhibits are the buildings that house it, director Hu Jiang says.
The museum, which officially opened downtown on March 26, consists of two structures built in the 1920s and '30s as the Shanghai Race Club in the former international settlement.
The race courses in People's Square have been replaced by high-rise buildings and public institutions over the decades. But the two buildings have survived and are recognized among the city's important cultural relics.
"My grandma used to live nearby, and we used to walk by the gate all the time," recalls Zhang Beifen, a woman in her 50s who was among the museum's first visitors on the opening day.
"I've witnessed it become the Shanghai Library, the Shanghai Museum, the Shanghai Art Museum and now the Shanghai History Museum."
The buildings became public assets after Shanghai was liberated in 1949.
The mayor at the time, Chen Yi (1901-72), decided to repurpose them as the Shanghai Library and Shanghai Museum. The Shanghai Museum moved away 1959, and the Shanghai Library relocated in 1997.
The buildings became home to the Shanghai Art Museum until 2012, when it moved to the former Chinese pavilion at the World Expo 2010.
The Shanghai History Museum dates back to the 1950s. It was initially located on Huqiu Road and later moved to several different locations.
The two-year restoration of the buildings started in 2015, when the municipality decided to move the history museum to the site.
Workers used the same materials as the original structure.
Visitors to the newly opened Shanghai History Museum start from the east wing, where permanent exhibitions portray the city's history.