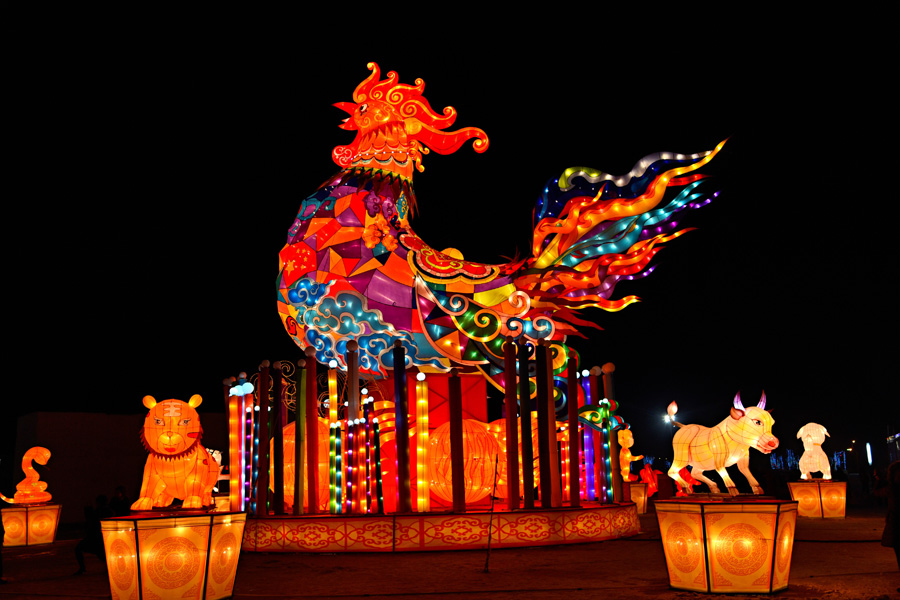 2017 marks the Year of the Rooster. The picture shows a huge rooster standing in the center, surrounded by the other 11 animals of the Chinese zodiac. [Photo by Zhang Xingjian/chinadaily.com.cn]
"Red in Chengde, Lucky in Hebei" is the theme of the 4th Dingsheng Royal Lantern Fair, which kicked off Saturday in Chengde in North China's Hebei province.
Consisting of a lantern show, folk performances, demonstrations of traditional Chinese folk handicrafts and local dialects, the fair centers on "Fu" culture this year.
The character Fu means fortune or good luck in Chinese culture. A '"mounted" Fu seen at the entrance to many Chinese homes worldwide is a widespread Chinese tradition associated with Chinese New Year.
The characters are generally printed on a square piece of paper or stitched on fabric. The practice is universal among Chinese people, regardless of socioeconomic status, and dates to at least the Song Dynasty (960 – 1279).
With an investment of 30 million yuan ($43.18 million), more than 60 groups of lanterns are illuminated during the festival.
Visitors can wander along the 1,200-meter-long street hung with interesting lanterns in various shapes and sizes on both sides.
This lantern festival, which ends Feburary 18, is a traditional celebration to welcome Chinese New Year.