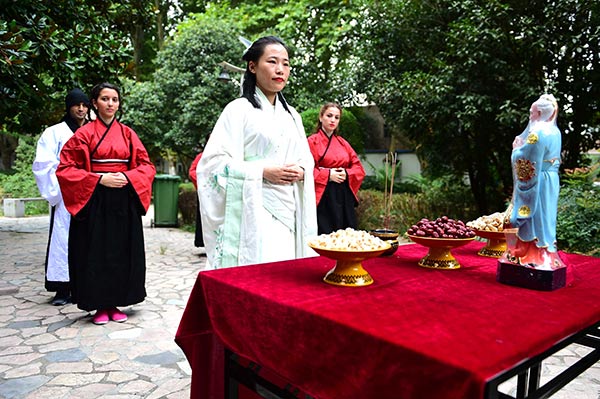 Students pay homage to Confucius' spirit tablet at Anhui University to mark the upcoming Teacher's Day, in Hefei, Anhui province, Sept 8, 2016. [Photo by Yu Junjie/Asianewsphoto]
How were gifts presented to teachers in ancient China?
Normally, an ancient teacher's income included salary, accommodation and festival gifts. There was no fixed tuition fee, generally the parents paid teachers according to their household income. Both money and basic foodstuff could be paid in exchange for tuition.
In private schools, teachers always received money or gifts from the host family at certain festivals or at the beginning and end of each semester.
The festivals in which teachers received gifts varied from region to region, while the most valued ones were the Duanwu, Mid-autumn and Chinese New Year festivals, as well as Confucius' birthday and the private tutor's birthday.
Among all the gift-giving festivals, the first meeting gift was a must. When students met their private tutors for the first time, they had to kneel down to Confucius' spirit tablet and then to their private tutor, before presenting a "gift".