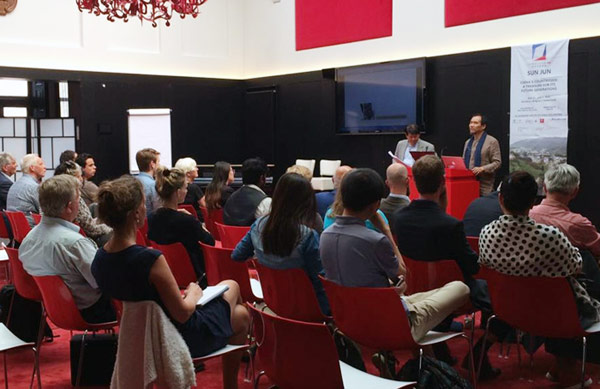 Sun Jun gives a speech in a classroom. [Photo/chinaculture.org]
As part of the Chinese Culture Talk activity, a special lecture titled Idea and Practice of China's New Countryside Construction was given by Sun Jun in Germany, Belgium and the Netherlands from June 26 to July 4 this year.
According to China's rural cultural expert Sun Jun, China's countryside has lagged its city in development over the past 30 years. Fortunately China has realized the significance of developing countryside and set a goal of building beautiful villages nationwide.
Sun Jun gave the lecture in Brussels on July 1. In his lecture, he elaborated on the reconstruction of Haotang village in Xinyang city of Henan province. Haotang's reconstruction is not limited to building houses, but involves a system development including production, soil reclamation, living standard, agritourism, brand and finance. The sustainable development makes peasants there richer and happier, and should be expanded across China. In his opinion, countryside will be a treasure for future generations.
Chinese Culture Talk is a series of lectures on Chinese philosophy, religion, literature, cuisine, medicine and other traditional culture-related subjects. It is sponsored by the Bureau for External Cultural Relations of the Chinese Ministry of Culture.