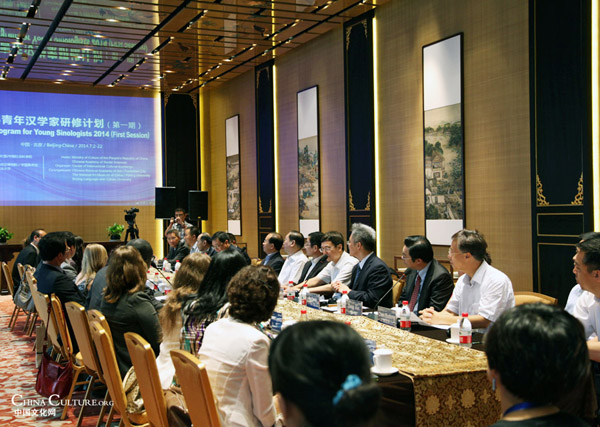 The first session of Visiting Program for Young Sinologists 2014 was held in Beijing during July 2-22, 2014. [Photo/Chinaculture.org]
The fourth round of a visiting program for young sinologists this year is coming. The commencement ceremony of the program will be held at the National Library on July 4.
About 31 young sinologists from 26 countries will start their journey in China.
A group of Chinese scholars will give lectures during the program, including Hu Angang, Wang Jisi, Liu Xinwu and Ge Jianxiong.
Jointly organized by the Ministry of Culture and the Chinese Academy of Social Sciences, the program was held for the first time in 2014, and again in 2015. It is committed to helping young sinologists have a better and deeper understanding of China, in terms of field research, seminars and workshops.
It is hoped that communications and visits will strengthen young sinologists' relationships with Chinese scholars and institutions.
A total of 92 young sinologists from all over the world have attended the program. The research topics covered Chinese literature, history, philosophy, art, language, politics, modern society and international relations.