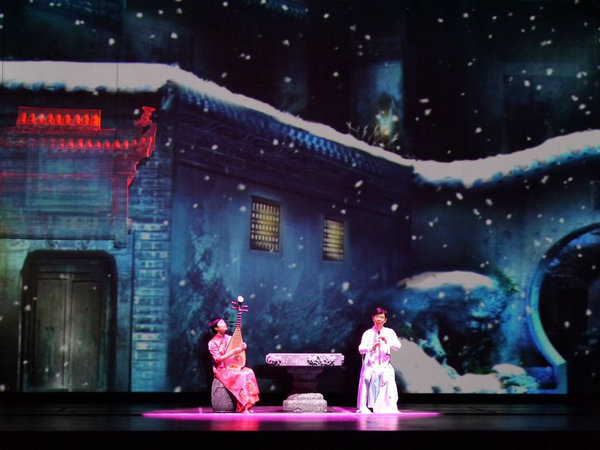 Rediscover Chinese Music is a multimedia spectacle, featuring 10 Chinese classical music works presented with a modern twist.[Photo provided to China Daily]
Chinese music reaches out to new audiences with innovative ways to help listeners identify with the stories behind it, Chen Jie discovers.
Before the musical show Rediscover Chinese Music was staged at the Kennedy Center, Lincoln Center and Carnegie Hall in December, director Wang Chaoge was proud that every day, eight theater productions directed by her were running at China's most popular travel destinations.
On the US tour, she met an American audience member who told her that he used to think it ridiculous that Chinese spent a big sum touring a show that might be nonsense to the Western audience. But this show, he said, was an unexpected experience that touched his heart.
The multimedia spectacle Rediscover Chinese Music, as its name suggests, features a repertoire of 10 traditional Chinese classics, which are arranged with a modern twist and performed by the China National Traditional Orchestra.
In 2013, the orchestra's president, Xi Qiang, talked with Wang about the possibility of creating a production reviving traditional Chinese music.
Xi, who learned traditional instruments and started with the orchestra by playing the erhu, a two-stringed Chinese fiddle, had always dreamed of reviving traditional music.
Wang, who co-directed the opening ceremony of the 2008 Beijing Olympic Games, is famous for her creative open-air shows, called the Impression series, staged at many of China's popular tourist destinations.
"I love Chinese traditional music. But I know if we don't play it in a modern context, it might get lost soon. So I told Xi: 'If you let me direct the concert, I would turn your orchestra upside down. Would that scare you?'" Wang recalls.
Xi resolutely said no.
So Wang commissioned Jiang Ying, resident composer of the orchestra, to create new works on the traditional instruments and produce a show called Impression of Chinese Music.
Since its 2013 premiere at the National Center for the Performing Arts, the show became a box-office success throughout China and attracted many young people.
Therefore Xi and Wang decided to do a new show.
"I'm bold. Xi is bold. And Jiang is bold, too. We push the boundaries to give the old music a new look," says Wang.
Xi says: "Wang is very creative. As an outsider to traditional music, she provides a fresh eye. So I trust her to make a further step."
This time, they chose 10 pieces based on their popularity, appeal and use of traditional Chinese instruments, such as the erhu, the pipa (a four-stringed lute) and the dizi (a bamboo flute).