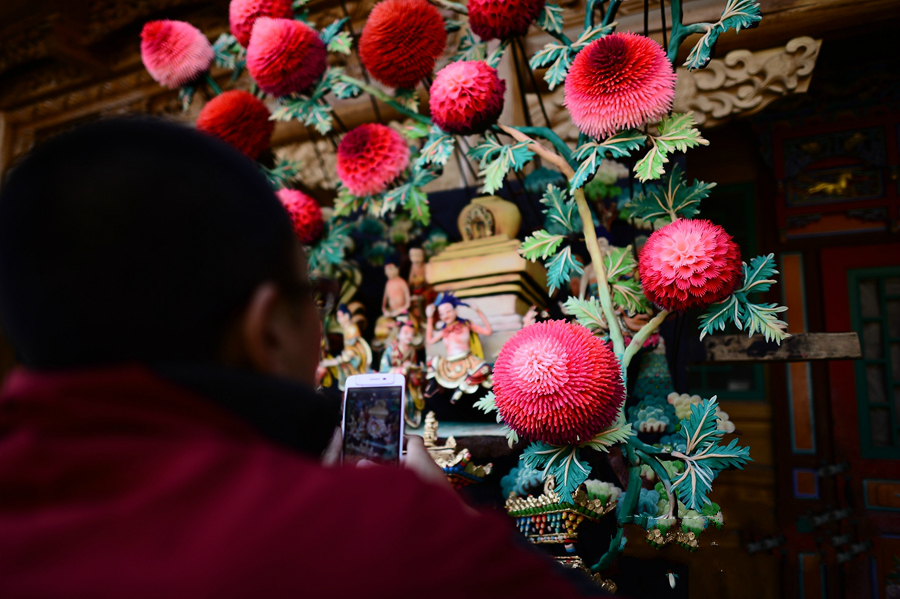 A monk takes a photo of a butter sculpture at the butter sculpture exhibition held in Gansu province on Mar 6, 2015. [Photo/Xinhua]
Gyaltsen Huazang, a man of the zang people, has devoted himself to the career of butter carving for 33 years. He was born in 1965 in a small village of Qinhai province and later became a monk of Kumbum Monastery (Ta'er Monastery) in 1981 to study about Buddhism. Three years later, he began to learn butter carving and now has come one of the most skilled monk artists at the Monastery. Jianzan said that butter caving originates from the Tibetan Bon religion. With the development of Buddhism, butter sculpture greatly improved in terms of its style, pattern, content and techniques. The butter caving of the Monastery has had a history of about five-hundred years. On every 15th day of the first lunar month, butter sculptures bloom at the Monastery, attracting lots of people to come to appreciate its beauty and pray for blessings. This tradition has lasted for hundreds of years and never ceased.
Every winter, Gyaltsen will make pure white butter from the milk that was given by cows when the grass turns yellow, for the skin of the Buddha sculptures made by this sort of pure white butter will look more delicate and fairy-like. Then the choice butter will be soaked in cold water for a long time to remove impure substances and become more delicate and smooth. The next process is to knead the butter into the shape of ointment and keep it in a room at a temperature of zero degrees centigrade , so that the butter will not melt.
In order not to let the warmth of his body affect the butter carving process, Gyaltsen always put his hand into icy cold water to lower his body temperature. The room for the carving has no stove and the window needs to be covered with cloth to block the sunshine.