Guangxi Overseas Chinese School holds commencement ceremony online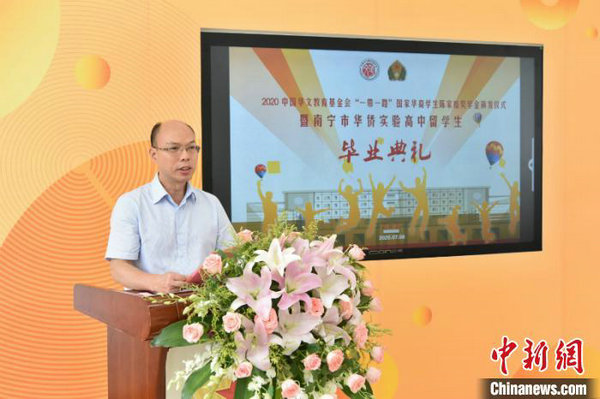 [Photograph/ Chen Jinchao, headmaster of Guangxi Overseas Chinese School, delivers a speech at the ceremony.]
Ameera, an overseas Chinese student from Thailand, said at the graduation ceremony, "Because of the epidemic, I was not able to put on my beautiful graduation dress or take graduation photos with my classmates. But I benefited a lot from the experience of studying in Guangxi. I will never forget these beautiful memories and friendships."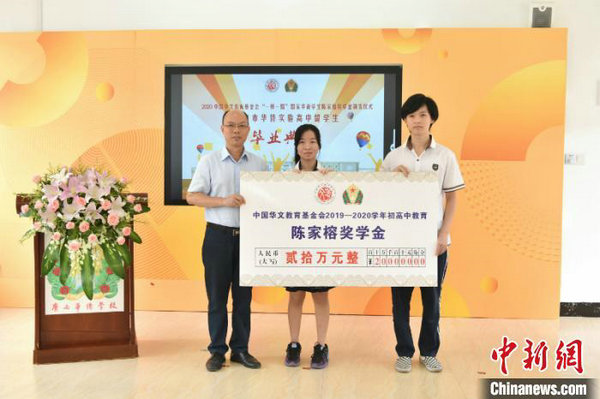 [Photograph/ Chinese Language and Culture Education Foundation of China awards scholarship to graduates.]
On the same day, Ameera received an admission offer from Sun Yat-sen University. She delivered a speech in fluent Chinese at the commencement event. She said she did not speak Chinese well when she first came to China, and neither did she know much about Chinese culture. With the help of her teachers and friends, she has been able to talk about almost all kinds of topics with her Chinese friends, and she often participated in various cultural exchange activities.
Ameera was also greatly helped by the Chinese Language and Culture Education Foundation of China. The scholarship awarded by the foundation solved her financial needs and helped her learn in peace. When she first entered high school, she did not feel comfortable as her family was poor and she always worried about her future, Ameera told the reporter. But she gradually got rid of the worries and found her direction under the encouragement and support of the foundation.
"I will remember this kindness and will always strive to learn something," she said.
Similar to Ameera, 45 overseas Chinese students studying at Guangxi Overseas Chinese School this year have been accepted by Zhejiang University, Xiamen University, Nankai University, Shanghai Jiao Tong University, Huaqiao University and other prestigious universities after taking online exams. They participated in the online commencement along with more than 200 non-graduating students and their parents.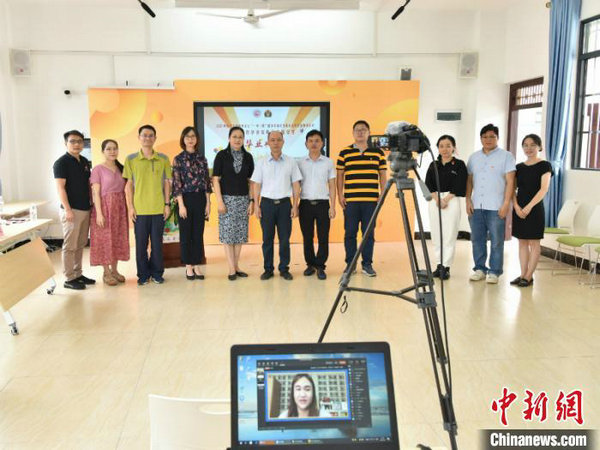 [Photograph/ The school holds the commencement ceremony online]
Yang Taixiong, a graduate from Thailand, was admitted to Nankai University. His mother said in the video that they went to the Guangxi Overseas Chinese School with great excitement and wishes, wanting to have an all-round development there. Every step Yang has made over the years has delighted her mother.
According to Chen Jinchao, the headmaster of the school, the school is the only one in Guangxi to offer overseas Chinese high school education as one of the five overseas Chinese schools in China, filling the gap in Chinese education. As of June this year, 664 overseas students have graduated, with a graduation rate of 100 percent.
The Chinese Language and Culture Education Foundation of China awarded scholarships for junior and senior high school education for the students. Yu Xiao, secretary-general of the foundation, hoped that the students would continue to focus on their studies, broaden their horizons and improve their abilities.
As per reports, since the foundation set up the "Overseas Chinese High School Academic Education Scholarship" project in Guangxi Overseas Chinese School in 2012, the funding amount has reached 5 million yuan, benefiting more than 1,100 overseas Chinese teenagers. The scholarships and bursaries helped students to solve their financial difficulties and helped them successfully complete their studies.
Contact us
Address:Asean-China Centre, No. 43, Liangmaqiao Road, Chaoyang District, Beijing, China
Postcode: 100600
Tel: 86-10-65321660 ext 636
Fax: 86-10-85322527
Weibo: weibo.com/aseanchinacentre