ASEAN-China Youth Winter Camp opens at Jilin University
The 2017 ASEAN-China Youth Winter Camp hosted by the ASEAN-China Centre (ACC) and organized by Jilin University kicked off December 22 at the university. More than 150 participants, including senior officials of China, the representatives of the Embassies of Lao PDR, Malaysia, Myanmar and Vietnam in China, and campers from China, Japan, South Korea and ASEAN countries, attended the opening ceremony.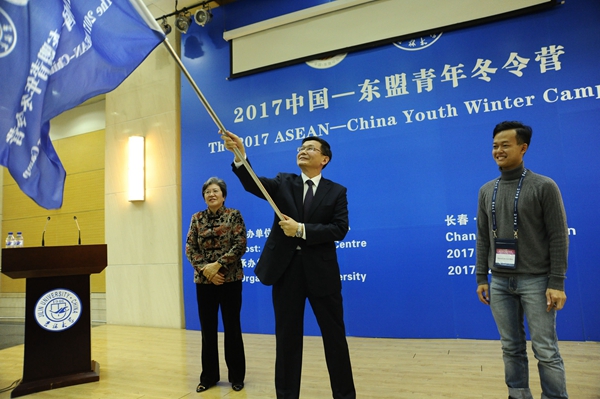 Yang Xiuping, secretary-general of ACC, Tao Hongjian, deputy director-general of the Department of International Cooperation and Exchange at the Ministry of Education of China, Zheng Weitao, vice-president of Jilin University, Vongsine Sayyavong, first secretary of Lao Embassy in Beijing, and the camper representatives delivered opening remarks.
Yang Xiuping, secretary-general of ACC, warmly welcomed the students from ASEAN countries as well as Japanese and Korean students. She spoke highly of the fruitful results of ASEAN-China Strategic Partnership, and said that cooperation in education sector has always been an important part of ASEAN-China relations. The student mobility between ASEAN and China had exceeded 200,000 by the end of 2016. Both sides are working hard toward the goal of the upgraded "Double 100,000 Student Mobility Programme" to realize 300,000 students mobility by 2025. In 2016, the two sides successfully held a series of activities encompassing the ASEAN-China Year of Educational Exchange. In 2017, during the 10th China-ASEAN Education Cooperation Week held in Guiyang, China, the two sides adopted the Plan of Action for China-ASEAN Education Cooperation (2017-2020), which charted the direction for bilateral education cooperation on the next stage. Last month, at the 20th ASEAN-China Summit convened in Manila, Chinese Premier Li Keqiang put forward the China-ASEAN Human Resource Development Programme, and would invite 3,000 ASEAN visitors to China for study program in 2018. All these have opened up new and broad space for bilateral cooperation.
Yang also briefed on the work of ACC. Since its inception more than six years ago, ACC has always been committed to promoting friendly exchanges and cooperation in trade, investment, education, culture, tourism as well as information and media. By the end of 2017, ACC had accomplished more than 120 flagship projects and organized or participated in more than 600 activities with positive outcomes.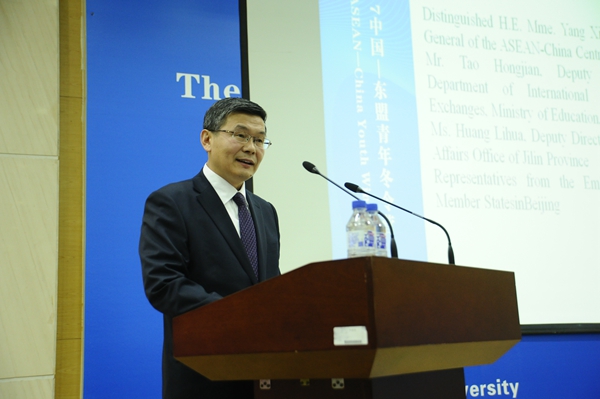 Zheng Weitao briefed on the more than 70 years development history of Jilin University and its achievements in education exchanges with ASEAN countries. He said that the university has established inter-university cooperative relations with the universities from Malaysia, Singapore, Thailand and many other countries, through which Jilin University conducted mutual visits of faculties, management members' workshop, exchange of students, joint training and other projects. The university was granted "China-ASEAN Education and Training Centre" in the second batch, and admitted around 70 students from ASEAN countries to come to study. Meanwhile, the university has cumulatively dispatched over 300 Chinese language volunteer teachers to Thailand, Indonesia, the Philippines, Myanmar, Brunei and other ASEAN countries on the platform of Northeast China Base of International Chinese Language Education granted by Hanban of China, and Training and Education Base for International Chinese Language Teacher of Jilin University.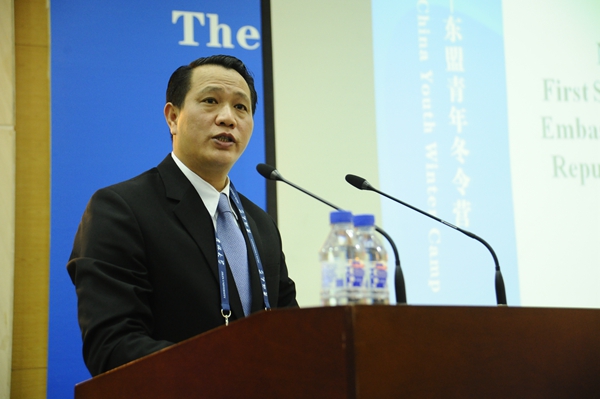 Tao Hongjian commended the fruitful achievements of ASEAN-China education exchanges and cooperation. He stressed that young students are the builders and promoters of the community of a shared future. Focusing on connectivity, broadening the channels of education cooperation, the Ministry of Education is aimed to support more flagship exchange program like the ASEAN-China Youth Winter Camp in order to enable youth of ASEAN and China to have more contacts and communication, to cultivate more interdisciplinary professionals for countries and the regional economy and social development, and provide more development paths for the youth.
On behalf of the ASEAN countries' embassies, Vongsine Sayyavong commended the significance of the ASEAN-China Winter Camp and praised the ACC for its long-standing efforts to promote the development of ASEAN-China youth and educational undertakings. He also said that the Lao Embassy would continue to support the work of ACC and join hands with all sectors to promote the development of ASEAN-China education cooperation.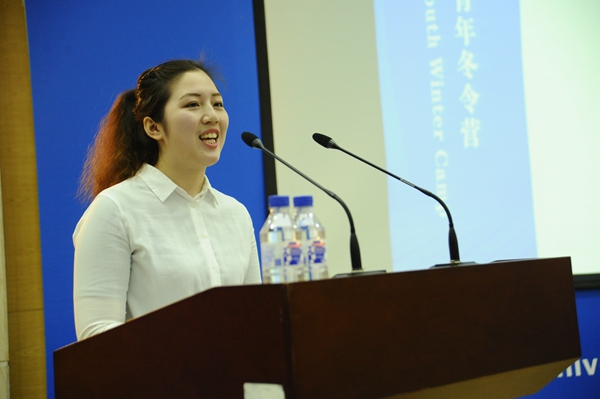 Lin Shunxian, student representative from Nanyang Technological University in Singapore, speaking on behalf of the ASEAN campers, thanked ACC and Jilin University for providing young students a platform for learning and friendship, and giving ASEAN students the opportunity to experience the charm of ice and the North China. He hoped to gain more knowledge, forge a deep friendship and made contribution to the development of ASEAN-China relations. Zhang Ziman, student representative from Jilin University, shared on behalf of Chinese campers the studying experience at Jilin University and the expectation to participate in the winter camp. She said that she will cherish the experience of staying with the campers from ASEAN countries, Japan and Republic of Korea to have a precious memory.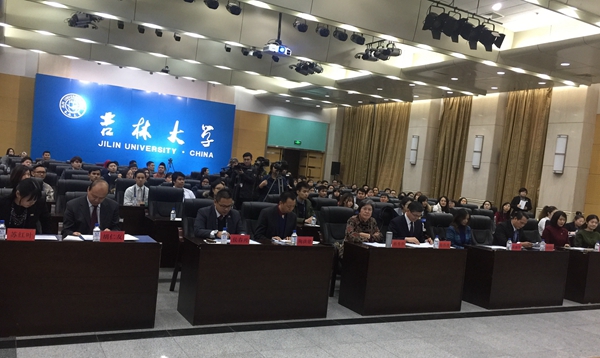 The theme of the winter camp is "Charming Northern China, Experiencing Ice and Snow". The camp will be held in Changchun and Harbin, during which, 33 young students from China, ASEAN countries, Japan and South Korea would take part in the ice and snow experience, academic exchanges, historical and cultural relics visits, cultural and sports interaction between teachers and students and other special activities.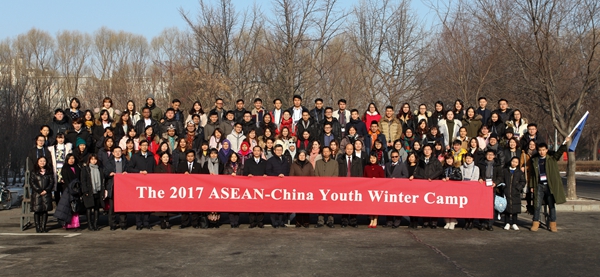 Contact us
Address:Asean-China Centre, No. 43, Liangmaqiao Road, Chaoyang District, Beijing, China
Postcode: 100600
Tel: 86-10-65321660 ext 636
Fax: 86-10-85322527
Weibo: weibo.com/aseanchinacentre