Young people's performances enhance China-ASEAN ties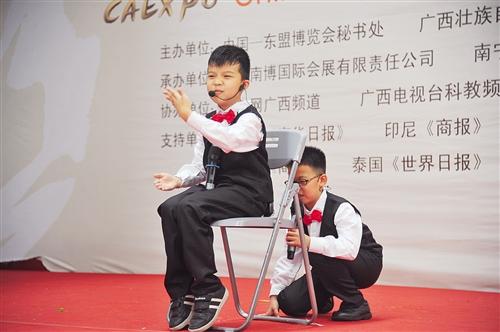 Two young children perform cross talk.
The 2017 China-ASEAN Expo Culture Exhibition closed on April 16,2017. Youth theatrical performances aimed at promoting exchanges among ASEAN countries and fostering mutual understanding among youngsters.
Performances selected by Thinking Workshop Language Training School and Yitang Dancing School were well received by locals and visitors from abroad. Through Chinese poetry reading, cross talk and a play YuLai Little Hero, a group of 6-year-old children demonstrated the beauty and charm of the Chinese language.
The beautiful dance Paper Cutting Craftswoman integrates a traditional Chinese handicraft with a stage performance, showcasing the splendid Chinese culture. The event reached its climax when kids presented their passion and skills in an African drum show Banner Unconquered.
The dance and art festivals were designed to compliment trade exchange events like the China-ASEAN Cultural Products Purchasing Conference.
Contact us
Address:Asean-China Centre, No. 43, Liangmaqiao Road, Chaoyang District, Beijing, China
Postcode: 100600
Tel: 86-10-65321660 ext 636
Fax: 86-10-85322527
Weibo: weibo.com/aseanchinacentre