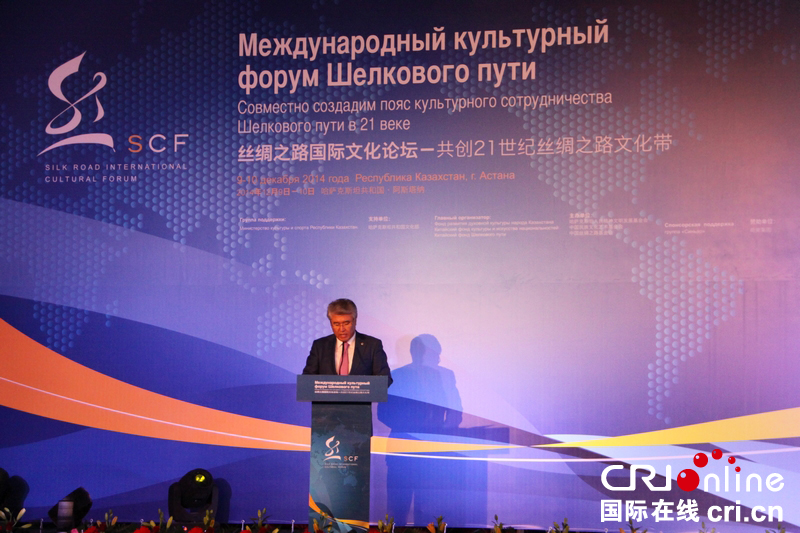 Kazakhstan's Minister of Culture and Sports Arystanbek Muhamediuly read the congratulation letter from Kazakhstan President Nursultan Nazarbayev and addressed the opening ceremony of the Silk Road International Cultural Forum on Dec 9. [Photo/cri.cn]
The first annual Silk Road International Cultural Forum opened on Dec 9 in Astana, Kazakhstan's capital city.
The two-day event was co-launched by China's Ethnic Cultural Foundation under Ministry of Culture and the Kazakhstan's People's Spiritual Civilization Development Foundation. It is devoted to becoming a platform for different countries along the ancient Eurasian trade route to exchange ideas to better promote cooperation and coordination in culture and explore a long-term multilateral mechanism in the field.
Kazakhstan President Nursultan Nazarbayev sent a congratulation letter on the successful convening of the forum. He fully confirmed its role in promoting multinational exchanges and cooperation, and in the protection and inheritance of cultural heritage along the Silk Road.
Zhang Hanhui, a representative of the Shanghai Cooperation Organization and Chinese ambassador to Kazakhstan, addressed the opening ceremony, saying that the Silk Road has great importance in communication and cultural integration between countries in Asia, Europe and Africa in ancient times. He also emphasized the realistic significance of the Silk Road Economic Belt raised by Chinese President Xi Jinping.
Equality, openness and win-win benefits are the principles of the Silk Road International Cultural Forum. It aims to provide exchange and cooperative opportunities for scholars, experts, artists, entrepreneurs and officials from different countries, and also enhance cultural cooperation between China and foreign countries. The move echoed Xi's call for development of the Silk Road Economic Belt when he visited Astana last year.
More than 100 delegates from different sectors, including politicians, cultural institution managers, and scholars from China, Russia, Kazakhstan, Kyrgyzstan, and Tajikistan, attended this high-end forum, looking for more grassroots involvement, other than just official channels. They discussed the innovation of traditional culture and art, the inheritance and development of folk art and the spread of cultural heritage along the Silk Road. A concert and an exhibition were also held during the forum.
All parties agreed to better use the platform of the Shanghai Cooperation Organization to enhance relevant work. The Astana Consensus, which urges the countries concerned to build a cultural system that encourages cultural connections, was reached on Dec. 10 at the forum. An activity to find 100 cultural heritage inheritors along the Silk Road was also launched at the closing ceremony.
The next forum will be held in Moscow in 2015.