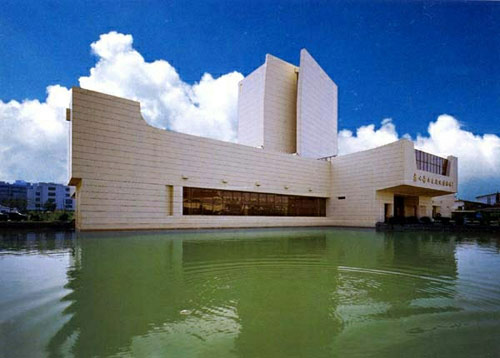 The exterior of the Quanzhou Maritime Museum [Photo/ china.com.cn/info]
As the only museum in China with the theme "China's overseas communication history", the Quanzhou Maritime Museum is preparing a new theme pavilion: Quanzhou, the starting point of Maritime Silk Road.
Quanzhou, situated on the southeastern coast of Fujian province, was an important harbor and the starting point of the Maritime Silk Road. In ancient times, citong (the paulownia trees) were widely planted in the region to a circumference of 10 kilometers, and Quanzhou was thus nicknamed "Citong City". The "living" cultural relics excavated from the ancient "citong" harbor will be on display in the new pavilion, telling legendary stories of those glorious days.
The exhibition The Silk Road and Creative Cities, co-hosted by Quanzhou, Xi'an, Chengdu and Luoyang, was held in Paris in the middle of September this year. Quanzhou was the only representative city of the Maritime Silk Road. And the design of the new pavilion is roughly the same as that of the Quanzhou section in the exhibition, comprising four chapters: "The rise of the port", "Prosperity in the Song and Yuan dynasties", "Transition in the Ming and Qing dynasties" and "World in focus". The last chapter reproduces the scene of the UN delegation visiting Quanzhou and certifying it as the starting point of the Maritime Silk Road.
We Recommend: