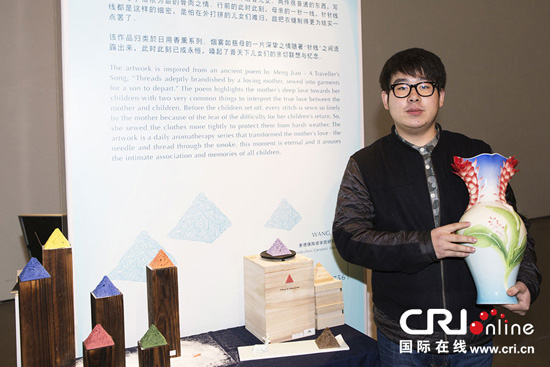 Wang Wu, a postgraduate at the Graduate School of Jingdezhen Ceramic Institute, won the top prize with "Holding the Hands of Time." [Photo/cri.cn]
Mainland student Wang Wu won the top prize in a cross-Strait porcelain design competition, the Franz Award, on Dec 1.
The prize includes 100,000 yuan (16,295 U.S. dollars) and qualifies Wang to participate in the "Maison & Objet" exhibition in Paris in 2016.
Since the competition was established in 2007, it has attracted many excellent designers worldwide. Starting in 2009, the competition has taken a theme consisting of a single Chinese character. This year's theme was "eternity."
This year's competition was divided into two groups: a porcelain design group and concept design group.
In the porcelain design group, Wang, a postgraduate at the Graduate School of Jingdezhen Ceramic Institute, was inspired by a Chinese poem about a mother's love in his piece, "Holding the Hands of Time." The porcelain piece is meant to be used for daily aroma therapy.
"When aroma smoke coils up from the artwork, it is like a mother's love by your side which will never end," said Franz Chen, CEO of the Taiwan-based Franz Collection, an organizer of the competition, at the award ceremony on Monday.
In the concept design group, Markus Kurkowski, a student at the University of Applied Sciences in Germany, won top prize for his hanging lamp design titled "Sphere."
Chen said porcelain is an important part of traditional Chinese culture and that designers must innovate to solve people's needs and make better use of porcelain.
The competition was jointly held by the Chinese National Academy of Arts, the Cross-Strait Cultural and Creative Industries Research Alliance, and the Asia-Pacific Cultural Creative Industry Association.