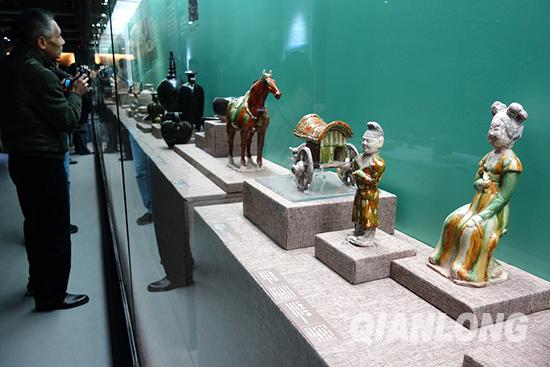 A visit views the procelains of Yaozhao Kiln at an exhibit booth at Beijing Art Museum on Nov 26, 2014. [Photo/qianlong.com] 
An exhibition of porcelain of Yaozhao Kiln opens at Beijing Art Museum on Nov 26, 2014, which displays a total of 133 porcelains.
The exhibition is co-hosted by Beijing Municipal Adminstration of Cultural Heritage and Shaanxi Provincial Bureau of Cultural Heritage.
The original Yaozhou Kiln is located in Yaozhou, which is present-day Huangbaozhen in Tongchuan of Northwest China's Shaanxi Province. Yaozhou ware was another major school of porcelain in northern China during the Song Dynasty (960-1279).
Research shows that Huangbaozhen was an important porcelain-making site established in the Tang Dynasty(618-907). Its development continued till the reign of Jingkang (1126-1127) in the Northern Song Dynasty(960-1127), before gradually declining afterwards. However, the Yuan Dynasty (1271-1368) still saw the manufacture of Yaozhou ware.
The exhibition will last till Feb 26, 2014.