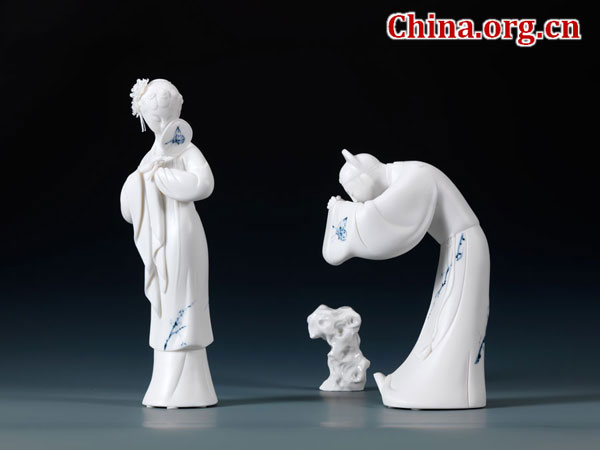 A porcelain work by Qiu Meigui, a senior art master from Dehua County in Fujian Province, on display in Yuyuantan Park in Beijing. [Photo by Chris Parker/China.org.cn]
The Chinese pottery capital Dehua held an exhibition of porcelain works, the "Meigui Art Exhibition," in Yuyuantan Park in Beijing on Oct 31.
The exhibition presented works by Fujian province senior arts and crafts master Qiu Meigui, director of the Chinese Arts and Crafts Institute and standing director of both the China Ceramics Industry Association and Fujian Ceramics Industry Association. The porcelain works on display included vases, sculpted figures, sculpted hands and fans.
Dehua County in central Fujian province in southeast China is famous for its porcelain, which has been sold internationally from as early as the Song Dynasty (960-1279) and is renowned for its high quality.
Dehua is known as one of the Three Porcelain Capitals in China, together with Jingdezhen in Jiangxi province and Liling in Hunan province. The distinctive bright white color of Dehua porcelain is traditionally known as 'ivory white' or 'milk white,' and is sometimes referred to in Europe as 'Blanc de Chine.' It is particularly suitable for sculpting human figures.
"The white of Dehua porcelain is very soft. It has influenced the whole world, through the maritime silk road. Dehua porcelain works feature a freer artistic style than the more rigid and reserved Jingdezhen ceramics, and the details are very fine," said Li Zheng'an, professor of the Department of Ceramic Design at the Academy of Arts and Design, Tsinghua University.
"I am really fond of these works, and I love Dehua porcelain because it is of top global quality, but as a folk art, it has been limited. My idea has been to integrate white porcelain, images from blue and white Qing porcelain, and images from opera," the artist Qiu Meigui said.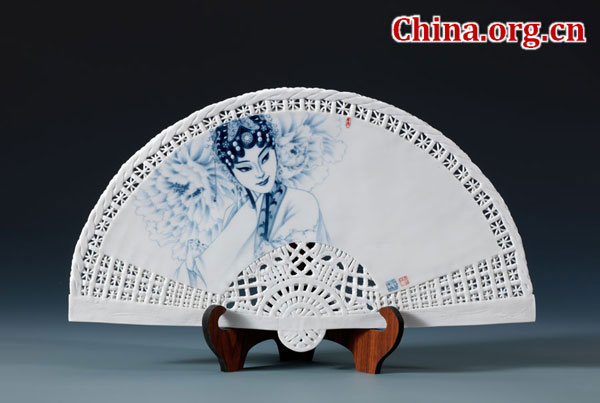 A porcelain work by Qiu Meigui, a senior art master from Dehua County in Fujian Province, on display in Yuyuantan Park in Beijing. [Photo by Chris Parker/China.org.cn]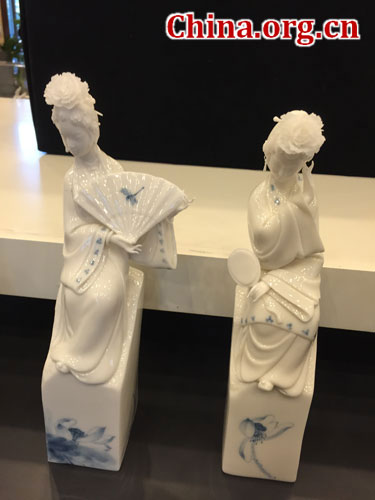 A porcelain work by Qiu Meigui, a senior art master from Dehua County in Fujian Province, on display in Yuyuantan Park in Beijing. [Photo by Chris Parker/China.org.cn]
We recommend: