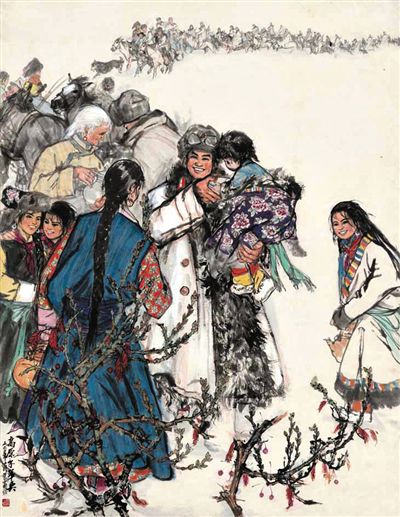 Masterpiece by Huang Zhou, Soldier in Plateau [Photo/english.cguardian.com]
The Grand View session is still the most anticipated part. That night will see a rich collection of ancient paintings and calligraphy, among them a specific auction for the calligrapher Wang Duo, who was a senior scholar during the late Ming Dynasty (1368-1644AD) and early Qing Dynasty (1644-1911AD). Meanwhile, classic works such as Poet at Bridge by Wen Zhengming (1470-1559 ), The Chunhuage Model Calligraphy by Dong Qichang (1555-1636 ) and Pavilions in Snowy Mountain by Wang Hui (1632-1717) are must-sees.
Another feature of the auction for Chinese paintings and calligraphy this time is the concept of "private collections". Five exclusive art pieces by Pan Tianshou, 1960s masterpieces by Huang Zhou with the theme "The People's Army" and six masterpieces by Xu Beihong from different creative periods will fully demonstrate the art of collection and the beauty of painting.
We Recommend: