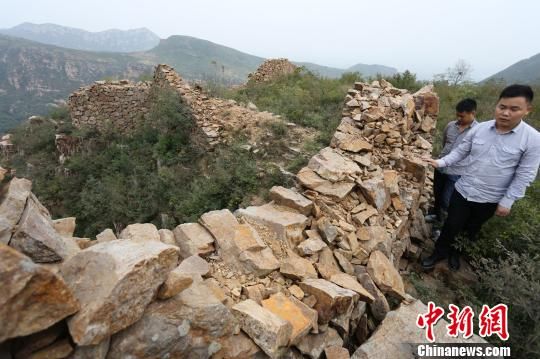 Cultural relics preservation volunteers show deep regret for the serious damage to the ancient wall on A Po Zhai Mountain in Lushan county of Central China's Henan province, by Yang Zhenghua. [Photo/Chinanews.com]
Scholars called for the protection of Chu Great Wall relics that stretch along the A Po Zhai mountain ridge in Lushan county of Central China's Henan province.
Remnants of the Chu Great Wall, first discovered in 2000 by archeologists, are as long as 800 kilometers and span 25 counties and districts in the province.
With a history of more than 2,600 years, it was deemed "the earliest ancient Great Wall of China", or called the "Father of Great Wall".
The ancient wall structures can be seen on the mountain range on the east and north side of the A Po Zhai Mountain, which is located about 30 kilometers in northwest Lushan county.
The village on the mountain top has few households, and the local villagers consider those wall structures as part of the Chu Great Wall.
Constructed along the dangerous mountain ridge with big rocks, they are usually about four or five meters tall and two meters wide.
However, several places of the ancient wall structures have been seriously damaged and some have even collapsed.
"When I was still young, the wall was well preserved. It stretched to the mountain top far away. But villagers have done great damage to the wall by taking away the rock materials to build their own houses in the past decade. There was no one to protect the wall," villager Li Shen told chinanews.com.
Situated at the east foot of Funiu Mountain and joining Ruzhou city on the north, the geographic position of Lushan county had great strategic significance in the ancient times, according to historical materials. Its north side was once the northwest frontier of Chu State during the Warring States Period.
"The north part of Chu Great Wall in Lushan might have been expanded by King Xiang of Chu based on the original sections," said Guo Zhihong, vice-chairman of Ruzhou Writers Association, who has good knowledge about this subject.
We Recommend:
| | | |
| --- | --- | --- |
| | | |
| | 2th China International Digital Content Expo kicked off in Beijing  | |