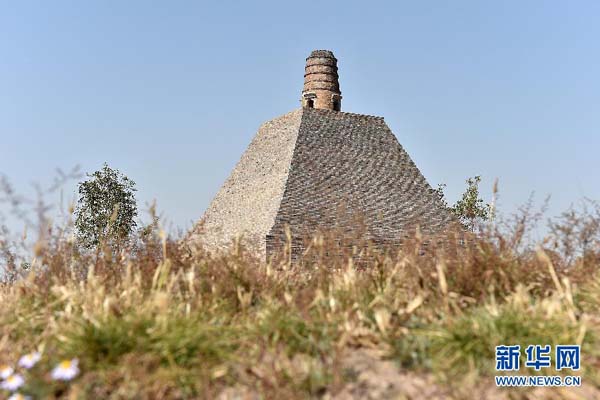 Pagoda after renovation.[Photo/Xinhua]
Renovation on an ancient pagoda once on the verge of collapsing has finished in north China's Shanxi Province , local authorities said Thursday.
The renovation on the five-story Wenfeng Pagoda in Jiancun, a village in Qixian County, started at the end of August, according to the Qixian county cultural heritage bureau.
Built at least 370 years ago, the brick pagoda used to stand on an eight-meter high mound of earth. Now the foundation is reinforced with brick.
The pagoda attracted public attention in July after a person published its pictures on microblog Weibo showing it managed to stand in the wilderness upright despite most of its pillars being ruined. Social media users then dubbed it the "strong-willed pagoda".
"This might be the last chance you see the pagoda," said Tang Dahua, nicknamed Ai Ta Chuan Qi (legend of pagoda loving) before writing a post urging the local government to protect the fragile cultural relic.
The pagoda has been officially recognized as an unmovable cultural relic, but it has yet to get official rating protection.
In China, relics are rated differently depending on their historical and cultural value. This often means sites and relics not on the protection list get little attention when allocation of protection funding is made.