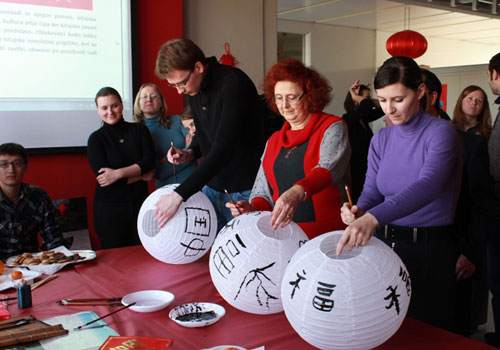 File Photo
The 10th anniversary of Global Confucius Institute was celebrated at the University of Ljubljana, Slovenia, on Sept 22, 2014. To mark the event, films, paintings, photos exhibitions, dancing performance and other cultural activities were held.
Tu Guangshao, vice mayor of Shanghai; Stanka Setnikar Cankar, Slovenia's Minister of Education, Science and Sport; Metka Tekavčič, president of the Faculty of Economics at University of Ljubljana; and Zhang Xianyi, ambassador of China in Slovenia; attended the meeting.
Tu Guangshao delivered a speech at the ceremony. He praised the cooperation between the University of Ljubljana and Shanghai University of International, Business and Economics. "The Confucius Institute is a bridge connecting Slovenia and Shanghai. It boosts mutual understanding between the two peoples and lets Slovenian friends know more about the Chinese culture," said Tu.
Cankar spoke about her visits to China and praised China's economic growth and achievements in culture and education. "The Ljubljana's Confucius Institute is a small group but makes great contribution," she said.
During the ceremony, the host of the event broadcast a documentary film about interactions between teachers and students and activities at the Confucius classroom.
In addition, several paintings by Wang Huiqin, a Slovenian Chinese artist, were displayed and a ballet performance under the theme of Chinese and Slovenian dragons won warm applause from the audience.
The Confucius Institute at the University of Ljubljana was founded in May, 2010. With another four institutes in main cities in Slovenia, they have attracted more than 700 students. The first Confucius Institute was established in 2004. At present, more than 120 countries and regions around the world operate the Confucius Institute and classroom.
We recommend: