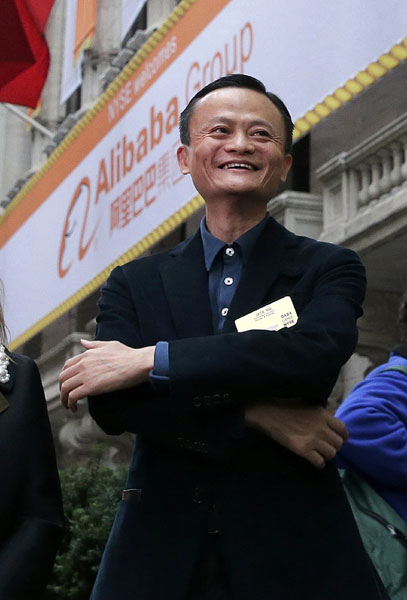 Alibaba Group Holding Ltd founder Ma Yun at the New York Stock Exchange for his company's IPO in New York on Sept 19.[Photo/Agencies]
A new book on Alibaba Group and its founder Ma Yun promises to rank on top of the plethora published on the subject. Liu Zhihua reports.
Mao Kunlun was delighted when China's leading e-commerce company Alibaba Group Holding Ltd presented the largest initial public offering in history on the New York Stock Exchange on Sept 19-even though Mao didn't invest in the stock, he knew it would bid well for his company's earnings.
The editor at China's largest private publisher, Beijing Motie Book Ltd, knew it was great news for his company when the Alibaba stock jumped 38 percent from $68 to $93 on the first day because the publisher had a few days ago released a book on Alibaba's founder Ma Yun, who has become China's richest man since the IPO.
"The IPO's success is perfect timing for the book's release," Mao says.
"It's going to be huge and sell at least 500,000 copies."
Crossing the 10,000-copy mark makes a book a best-seller in the Chinese market, he explains.
The book-titled Ma Yun in Cloth Shoes because the billionaire always wears cloth shoes except for on very formal occasions-is a chronicle of 27 events that have shaped Ma and Alibaba over the past 22 years.
Its insightfulness owes to the fact the leading author, former journalist Wang Lifen, is Ma's friend and consequently enjoys the kind of access to the magnate that other authors can only dream of.
We recommend: