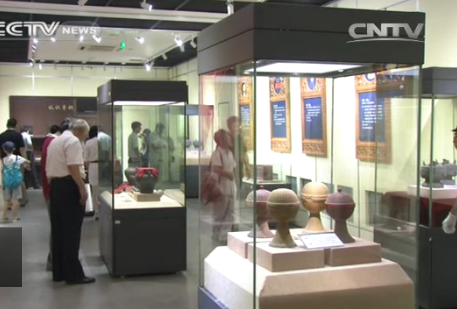 If you're looking for some educational entertainment during this summer holiday, you could always pay a visit to Beijing's Confucius Temple and Imperial College. A new exhibition has opened, featuring ritual objects used by past Chinese emporors, to honor the great philosopher Confucius. Visitors are even allowed to touch some of the items.
Paying homage to Confucius, a great thinker, educationalist and founder father of Confucian philosophy.
Most of these items on show were sacrificial vessels, utensils and musical instruments. They were used in sacrificial ceremonies, held by emperors in the Ming and Qing dynasties, to honor Confucius.
It's the first time some of these relics have been seen in public.
"This is a 'Deng'. It's only purpose was to be used in sacrificial ceremonies dedicated to Confucius. So it's very rare and precious." Li Chaoying, Deputy Director of Confucious Temple and Imperial College Museum, said.
Alongside the ancient relics are more recent photos, reflecting modern perceptions of the great Chinese philosopher.
And there are old musical instruments, which people are allowed to touch to get the real sound of the ancient rituals.
"Taking part is the best way to learn. So in this exhibition, visitors can observe these items very closely. They can even touch some of them and feel them," said Wu Zhiyou, Director of Confucius Temple and Imperial College Museum.
The exhibition opened on Friday and runs through till October.
We Recommend: