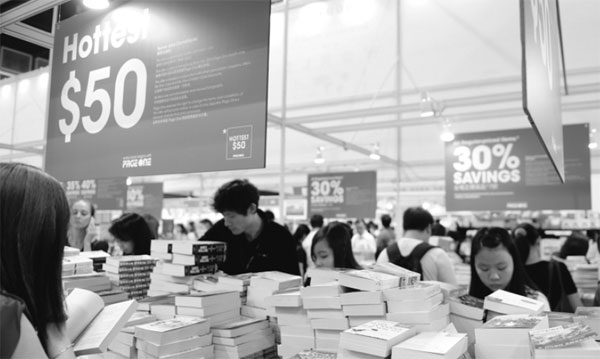 Readers sift through books at the Hong Kong Book Fair. [Photo provided to China Daily]
The Hong Kong Book Fair hosts a range of literary and cultural events. This year the focus was on high-tech trends, as paper books give way to e-readers and cellphones. Annie Cheung and Zhang Jing report from Hong Kong.
With one simple scan, teacher Gladys Lau fed into her handset information about an exhibition featuring Hong Kong's literature and writers at the Hong Kong Book Fair, which was held from July 16 to 22.
Now, Lau is ready to share the material with her students online.
Celebrating its 25th anniversary, the largest annual literary event in town was more than just a platform to go on a book buying spree. It also presented a smorgasbord of cultural activities - seminars by renowned writers, art gallery exhibitions and storytelling sessions for children, to name a few.
What's more, it added more digital elements, such as putting QR codes beside exhibits, to encourage visitors to read information in detail using their cellphones or tablet computers, despite worries that increasing use of electronic products is posing a threat to traditional reading.
"It is inevitable. Nowadays young people are too used to managing their daily tasks with gadgets," Lau says.
Lau, a Chinese literature teacher at a secondary school in Kwai Ching district, says electronic and traditional reading are complementary to each other, with the former helping readers obtain a vast amount of information at a time, while the latter leads to more in-depth information.