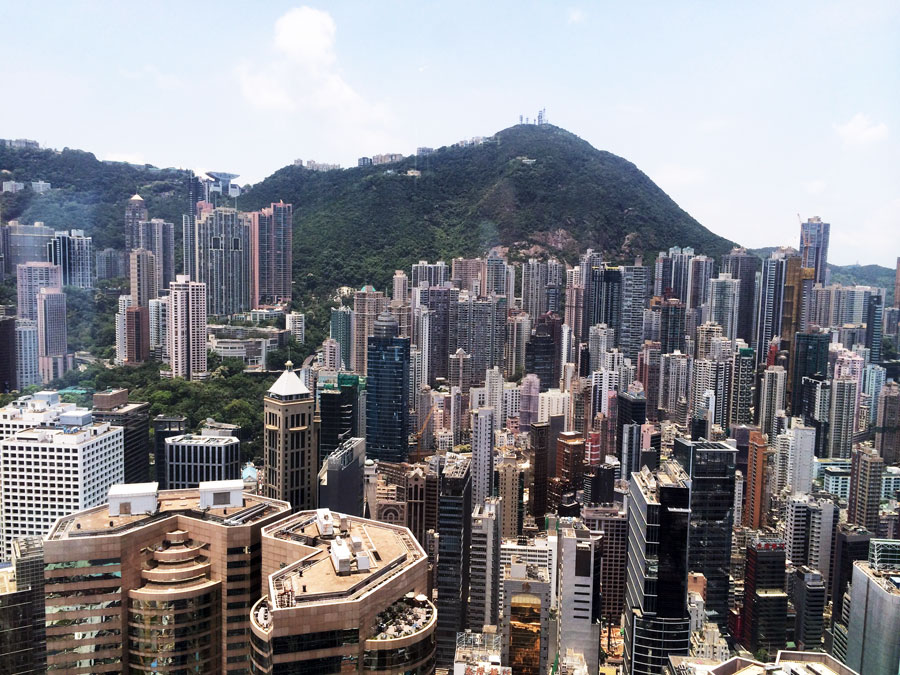 Skyscrapers as viewed from the Two International Finance Building. [Photo: CRIENGLISH.com]

For visitors from the mainland of China, Hong Kong is a shopping paradise, not hyped for its tourist destinations. Although Hong Kong has its Disneyland, its marine park and its Avenue of the Stars, when most people think of this city they rightfully think of densely packed skyscrapers. These buildings symbolize Hong Kong's urban culture, and from the tops of the landmark buildings, Hong Kong falls into a new perspective.
Hong Kong is home to many buildings by world-class architects, the most famous of which is the Bank-of-China Tower by Leoh Ming Pei. Although it may seem a tad austere, visitors are welcome to visit. After presenting proper ID, visitors can visit the tower for free on workdays. From the tower's 43rd floor, central Hong Kong's buzzing streetscape can be properly taken in.
The Two International Finance Center, is also open to visitors. Its 55th floor looks down on Kowloon areas on the other side of Victoria Harbor. The building also offers an exhibition hall of Hong Kong Monetary Authority, where visitors can learn about the creation and circulation of money in Hong Kong.
Hong Kong features numerous high-rise buildings, but the International Commerce Centre sitting in the Kowloon areas is the tallest of these towers. At 484 meters tall, it is the 7th highest skyscraper in the world. Visitors can enjoy a bird's eye view of Hong Kong from sky100, the 100th floor observation deck.
Recently, the number of tourists in Hong Kong has dropped, even during Labor Day and Golden Week. In order to attract more locals to travel around Hong Kong, sky100 offered summer discounts, as well as a variety of free family workshops such as painting or cupcake-making.
The next time you visit Hong Kong, if you're looking to do more than hang out in Tsim Sha Tsui or checking out Taiping Mountain with the other tourists, remember that there're plenty of other high points in the city worth seeing.
We recommend: