The book Key Words covers incidents which caused big social influences, such as a string of attacks in Chinese kindergartens and controversial social phenomena like showing off wealth and flamboyance.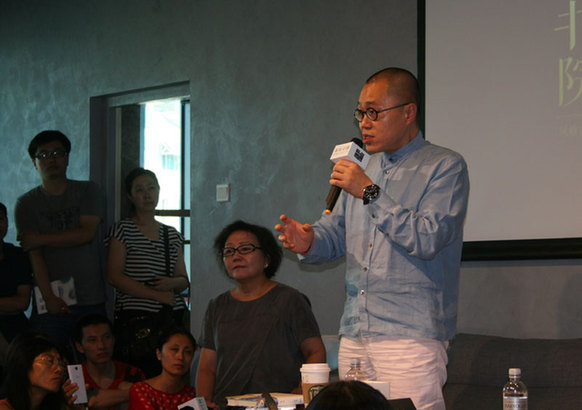 Hong Kong social commentator and TV critic Leung Man-tao speaks at a promotional activity for his new book named Key Words, at a branch of One Way Street Library in Beijing on Saturday, July 12, 2014. [Photo: CRIENGLISH.com]
Leung Man-tao explains the reason why he named his new book Key Words.
"I used to run a column in Century Weekly magazine, called Key Words. Key Words usually touch upon the hot topics and big events that took place in recent years in the Chinese society. At these discussions some key words have been used frequently, and then I've picked up those key words. That's basically where the name of the book comes from."
Leung is famous for his sharp and thought-provoking critique on cultural, social and economic policies and phenomena. Take "connnection" or Guanxi, a chapter in his new book, as an example.
Once, a friend of his went to see a doctor for heart disease in a renowned specialized hospital. However, the doctor's first question was not "how do you feel now", but "do you come to see me because you have a "connection"? And the doctor also indicated he would refuse to provide a diagnosis if the connection is indirect.
Guanxi refers to the benefits gained from social connections and usually extends from extended family, school friends, workmates and members of common clubs or organizations. It is custom for Chinese people to cultivate an intricate web of guanxi relationships.
With Guanxi and many other social phenomena, Leung looks beyond appearance for the nature of phenomena and shared his thoughts in his new book.
"From my perspective, I want to analyze our thought when we employ these key words, as well as the context in which we are using these words, and the deeper meaning of expressions by use of these key words. The process reflects something hidden in our deep-consciousness that is common in today's society."
Key Words was published by China CITIC Press in June. Huang Weiyi, with the China CITIC Press, is the editor for Leung's book. She shared what she thinks on Leung's book as a reader.
"His book is all about the big events that took place in Chinese society in recent years, and it leads readers like me to achieve a deeper understanding about these issues and also deal with it with a more objective attitude, rather than a sheer outrage towards social unfairness. His articles would guide readers to discover the reasons behind all these happenings."
Leung was born into a Catholic family in Hong Kong in 1970, with his ancestral home in Shunde, Guangdong. Leung was raised in Taiwan.
In 1999, Leung joined Phoenix Television and co-hosted a talk show called Kengqiang Sanrenxing with Dou Wentao since that year. Though labeled as a media veteran and critic, Leung never thinks his book is sharp or sarcastic but expresses a neutral attitude.
"Some people think I am so critical in my book Key Words. In fact, what I intend to convey through this book is discovering the changes in modern Chinese society and depicting it using those nowadays popular expressions."
In addition to this latest commentary collection, the author has previously published two other books titled: Common Sense and Atma Graha.
We Recommend: