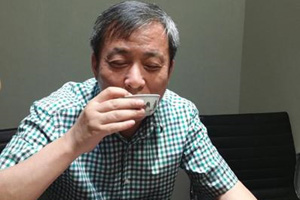 Liu Yiqian drinks tea using the famous "chicken cup" that he purchased for $36 million at a Sotheby's auction in April.

A centuries-old doucai "chicken cup" has been a hot topic on the Internet since last week when Shanghai billionaire Liu Yiqian took a much-talked about sip using a $36 million cup.
Photos of Liu and the cup emerged after he had traveled to Hong Kong to collect the ancient porcelain cup he purchased at a Sotheby's auction in April.
"I was so excited when I finally saw the cup. The cup carries too many stories and when I got it in my hand, I just poured some tea inside and drank it up without even wiping it," Liu Yiqian told the press.
"The cup has endured 600 years. The emperors and imperial concubines in ancient times might have used it. It's magic and I just couldn't help myself."
Before the cup's transfer on July 18, Liu paid the bill by credit card, swiping the card 24 times with each pass deducting $1.5 million from his account.
The move caught the eye of China netizens, and the scrutiny intensified when Liu was shown drinking tea using the valuable cup. Some netizens called him "tuhao" or nouveau riche, and said he was showing off. Some said his was inappropriate and disrespectful to the relic.
Not everyone agreed. A porcelain specialist from Sichuan said, "There are cheap porcelains and expensive ones, but they are all for people to use. Liu has well appreciated the original function of the chicken cup by actually drinking tea."
The cup, which is 8.2cm wide, is painted with roosters, hens and chicks. It was made using the doucai method of fashioning porcelain that began during the Ming Dynasty. The cup celebrates the pinnacle of the Chenghua style of porcelain that existed from 1465 to 1487. This period is known for its refinement of the doucai method.
For now, the "chicken cup" has arrived in Shanghai and will be safely stored in a bonded warehouse. Liu said the cup will be shown to the public at the end of this year.
We recommend: