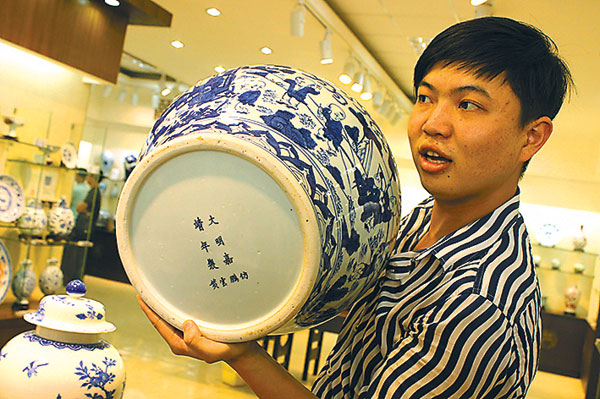 An employee from Huang Yunpeng's studio shows their emblem which distinguish the new-made replicas from original pieces. WANG KAIHAO/CHINA DAILY

The cases in Jingdezhen's exhibition hall are full of delicate porcelain pieces, all apparently from ancient royal collections. Appearances are misleading, however, because every piece is of modern manufacture.
For their creator Huang Yunpeng, who has spent almost his entire life making porcelain in the city in Jiangxi province, the local industry's reputation is closely connected with his personal life.
Huang is regarded by many as the industry leader in the town known as "China's porcelain capital", because of his use of traditional manufacturing methods. He's a taciturn man, but when the media swarmed to the city, labeling it a "hub for forgeries", the 72-year-old suddenly found his voice. "It's very unfair to our industry," he said, pointing to several exquisite pieces of original porcelain in his studio. "How could visitors enjoy these beautiful exhibits without our efforts?"
The pieces, owned by some of China's top museums, were sent to Huang to be reproduced in detail.
"Making replicas is an important way of protecting the treasures collected by the museums," Huang said, "But their meaning goes far beyond that."
Demand for fine old-style porcelain is sky-high, but few can afford the astronomical prices, so replicas are made to fill the void. For example, in 2010, a vase made during the reign of the Emperor Qianlong (1735-96) sold for HK$250 million ($32.3 million) at an auction in Hong Kong, setting a new record, but Huang's replica cost just 30,000 yuan ($4,830).
He said it's hard to distinguish between the originals and his replicas by sight, but insisted that he doesn't try to make his pieces feel like antiques. "That's the difference between replicas and outright forgeries," he said.
Huang stressed that his emblem is always visible on the base of the replicas, so purchasers will not be misled, but admitted he was concerned that some of the city's smaller studios don't adhere to that practice.
"They may make fast money but they will harm the industry's long-term reputation. The law needs to crack down on these people," he said.
We recommend: