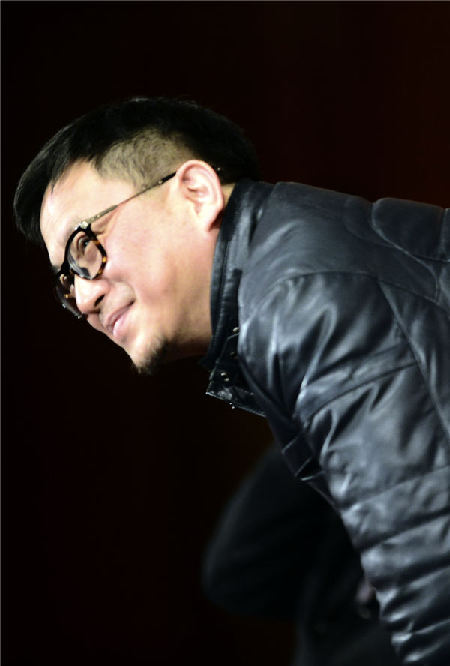 Guo Wenjing's latest opera The Rickshaw Boy was inspired by the classic novel of the same name by Lao She. Photos by Jiang Dong/China Daily
Composer Guo Wenjing's newest opera The Rickshaw Boy presents the pathos of an old Beijing but audiences will recognize the essence of the city today.
'No matter if you are a dog or a rooster, I would love you. Whatever others say, I will be with you. Do not fool me, I'll destroy you." Composer Guo Wenjing narrows his eyes and nods his head to the rhythm while listening to a soprano practice the aria of his latest opera The Rickshaw Boy.
It is the 58-year-old composer's most-loved aria because "it brings out heroine Huniu's personality."
Huniu, a virago in her late 30s sings the aria after she seduces Xiangzi, a rickshaw puller, into bed. Daughter of the owner of a rickshaw shop, Huniu is middle-aged, ugly and mean, but many rickshaw pullers want to marry her to inherit the shop. She, however, only loves the honest and hardworking Xiangzi, whose life-long dream is to own a rickshaw.
In order to marry him, Huniu even becomes estranged from her father. Of course, the story does not end with the couple living happily ever after.
Another part of the opera that the composer highly recommends is a sad intermezzo when Huniu dies of dystocia because the couple were penniless and could not see a doctor, and Xiao Fuzi, the other heroine, is forced into prostitution and also dies.
"It is completely a Mahler-style symphony," the composer says.
"I cried after finishing this part. I cried for Huniu, for Xiangzi, and also because I finally wrote an opera for Beijing, the city where I've lived for more than 30 years."
We Recommend: