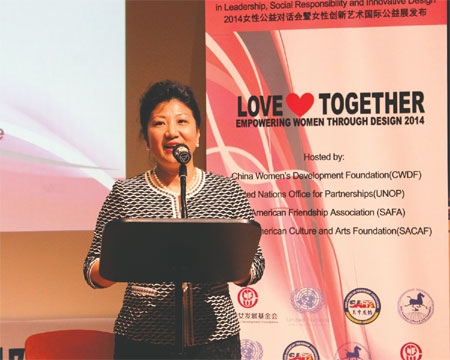 Zhang Meifang, deputy consul general of the General Consulate of the People's Republic of China in New York, speaks at Love Together - Empowering Women Through Design 2014 at the United Nations Headquarters in New York on July 18. Elizabeth Wu / for China Daily

Women leaders in politics, business, and design from the United States and China voiced their different opinions on how to empower women and move ahead in the workplace at a recent symposium held at the United Nations in New York.
Most Chinese women said they didn't see a big difference in how men and women are treated in the workplace, while American women believe women are treated differently from men, revealing a cultural difference of opinion at the Love Together - Empowering Women Through Design 2014 symposium on July 18.
"We are born in an era where women continue to play an increasingly important role," said Zhang Meifang, deputy consul general of the Consulate General of the People's Republic of China in New York. "However we have to understand that in many parts of the world many women and girls are still deprived of their inalienable rights."
Speakers discussed how women in the workplace face a glass ceiling that keeps them and other minorities from advancing to higher levels of management in comparison to men. Many Chinese women at the panel believed there is little difference in the way men and women are treated in the workplace.
Lu Ning, design principal of Lu Ning Architecture PLLC, said that when she first began working at an architecture firm in New York, she faced difficulties convincing people of her work abilities.
"Men mainly don't trust women, but they mostly don't trust young women," said Lu. Although she faced difficulties, Lu said that she believes women in the workplace are not much different from men, "Passion, hard work, perseverance, and dedication to work helps," she said.
Cindy Ye, president of export company ANL Express, voiced similar sentiments. "I don't see men and women as different (in the workplace)," said Ye. "If we are somewhat different then I would say women have many advantages over men. Women are more sensitive and detailed, which is helpful when making deals."
Women from the US at the panel believed there are differences in the way men and women are treated in the workplace, citing obstacles they encountered in their path to success.
Anna Rabinowicz, designer at RABLABS, who has taught at Parsons The New School for Design, and Eileen Karp, chair of the fashion design department at the Fashion Institute of Technology (FIT), both said it was difficult to work and raise children, while their husbands were also employed. "I exclusively hire women and I exclusively hire women who have two children,but at the end of the day the work still gets done," Rabinowicz said.
Mecca Santana, chief diversity officer for the state of New York, said women need to step out of their comfort zone and network with one another. In the fashion industry in the US, 15 percent of CEOs are female. In retail, 8 percent of the CEOs are women. On the Fortune 500 list, 4.2 percent of the CEOs are female, according to Christine Pomeranz, chairperson of the Department of International Trade and Marketing at the FIT.
Qin Guoying, vice-chairman and secretary general of China Women's Development Foundation, said the opinions of the panelists represent a personal perspective.
"In the context of globalization, this exchange between cultures and countries has benefited women greatly and has expanded and given them more rights," said Qin.
The China Women's Development Foundation's health initiative for women and children helped 1.9 million people benefit from their ambulatory services, said Qin, adding that they have helped 70,000 women to start their own businesses by providing microloans.
The symposium was followed by a charity dinner, which hoped to raise $1 million through an auction to benefit the Water Cellar for Mothers project. It supports poverty-stricken women and their families in rural areas with water shortages in China and Kenya. More than 30 works from artists in Asia, Europe, the Americas, Caribbean, and Africa were available for bidding at the auction.
The panel also marked 19th anniversary since former US scretary of state Hillary Clinton first spoke to the UN Fourth World Conference on Women in Beijing in 1995. Another one will be held in November in Paris next year.
We recommend: