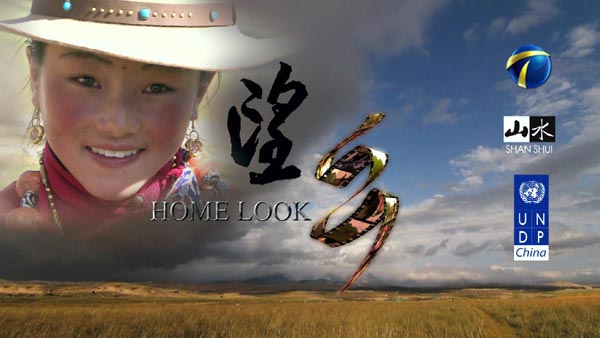 Home Look is a documentary made by ordinary people. Provided to China Daily
Shepherd Suo Ri speaks to a wild snow leopard, the animal he has been following for five years.
"Years ago, I had more than 200 sheep but now there are only 60 left," Suo says. "I don't kill you because I know you have two kids to feed, just like I have my sons and daughters to raise."
Living in the Qinghai-Tibet Plateau, Suo is one of the people who have recorded their daily lives as part of a documentary project. The project is co-founded by Tianjin TV station, the United Nations Development Program China and Shanshui Conservation Center. It equips people in rural areas with cameras, allowing them to film their daily lives.
Suo has followed the wild snow leopard with his camera for five years, capturing rare footage of the endangered animal, including its hunting practises and it playing with its young.
Staff members at Tianjin TV station train people like Suo and edit the material they send back, turning them into 10-minute documentaries. The final works make up the documentary program Home Look.
"Their documentaries have a raw emotion and a special perspective that professional cameramen can never capture. And these ordinary people never notice how good their original material is," says Bian Ye, managing producer of Home Look.
Over the past two years, Home Look has broadcast more than 50 documentaries filmed by people living in rural areas of southwestern China, remote places that are sparsely populated. The topics are as broad as the country they depict. A farmer uses his camera to record the changes in his hometown in Aba, in the Tibetan autonomous prefecture, from bucolic beauty to a place crowded with tourists. A housewife digs up medicinal fungi day after day to sell to support her family, and shepherds battle with wolves for living space.
Home Look has just added new material provided by the United Nations. The material is part of a 1,500-episode documentary filmed by ordinary people across the globe who have received help from the UN and topics focus on food shortages, anti-war campaigns and drug prohibition.
It's the first time for UN in Action to broadcast in China and be integrated with China's native documentaries, says Jiang Hua, deputy director of the UN's news and media division.
"We hope to collect all kinds of documentaries and hold a documentary festival in the future, all filmed by ordinary people about their rural lives," Bian says.
We Recommend: