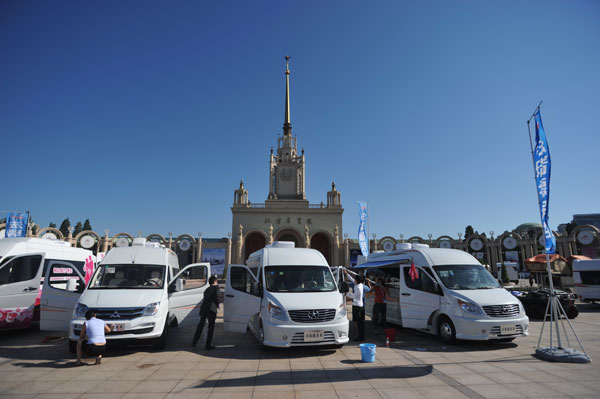 Different brands of recreational vehicles are displayed at the Beijing Exhibition Center during the All In Caravaning Expo 2014. Photos by Zou Hong / China Daily

Recreational vehicles, or RVs as they are commonly called, are stress-busters that city dwellers are increasingly looking to buy for nature tourism.
The All In Caravaning Expo 2014, a trade show featuring recreational vehicles and camping equipment, was successful in attracting more participants this year, thanks to the growing interest in nature tourism across China, according to the annual event's organizers.
Held in Beijing from June 27 to 29, the show witnessed 183 entities exhibiting their products, up from only 99 when the show started in 2012, and buyers of camping goods and accessories also turned up in large numbers, they says.
Recreational vehicles are stress-busters for city dwellers who wish to escape to the quiet of nature.
"People long for a more relaxed time," Tian Lei, who worked at the event, says.
"Packing bags and heading out to destinations that offer such experiences is increasingly appealing to people in cities and RVs help to achieve that."
Wu Yachao, a real estate project manager from Hubei province, is riding the trend. He flew to Beijing for the exhibition along with his son.
Wu discovered his love for RVs was deep when he rented one in suburban Beijing during the exhibition. He wanted a change from what he thought might become a "boring" hotel stay.
We recommend: