Huangshan hosts Miss Tourism World 2010 China
Huangshan city in Anhui hosted China's final round of the Miss Tourism World 2010 on August 28.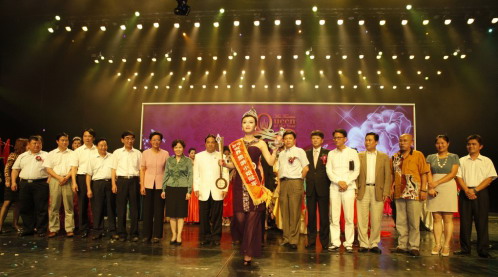 Organizers and judges express congratulations to the winners.
Though 29 Chinese women competed in the division final, they were the last of the 28,417 who took part in the contest. After intense competition, Beijing's Li Dan won the championship. Anhui's Wang Haoyue was the runner-up, and Shandong's Ju Zongxia took the third place. The three will take part in the global final of Miss Tourism World 2010.
During the event, the women promoted activities in a number of Anhui's scenic areas, such as Yuangfang Canyon, Emerald Valley and Hongcun Village. "Their pretty faces and graceful temperament refreshed Anhui's image to both foreign and local visitors," said a resident of Huangshan.
Debute of the contestants
The first Miss Tourism World Championship took place in Kuala Lumpur, the capital of Malaysia, in 1933. This is the 16th of the pageant, which is regarded by many as one of the top events in the international tourism industry. Women from all around the world will gather in Shandong's Qingzhou city for the world finals of the Miss Tourism World 2010 Championship on September 25. The event will host 180 women from over 80 countries and regions around the world.
By Audrey and Liu Xi
Editor: Feng Hui