Largest Zhuang embroidery shines in Shanghai
Hand-woven brocade at the Shanghai Expo sheds light on the beauty of a centuries-old craft that crystallizes the dreams and hard work of the ethnic Zhuang in Guangxi, China's largest ethnic group.
Amidst the fanfare of the opening of Guangxi Week at the 2010 World Expo, a hand-woven tapestry became the centerpiece that wowed the audiences who flocked to Shanghai. Had it been done by weaving machines and stitched together, it would have been nothing extraordinary.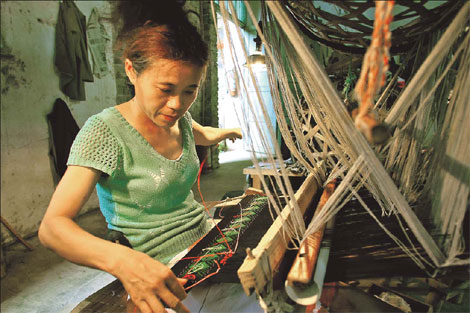 A weaver operates a "primitive" loom nicknamed "the pig basket".(photo:China Daily)
But what seemed like an ordinary piece of handicraft was actually the largest of its kind, at 6.6 m by 3.68 m, and took five workers 96 days to finish. That does not take into account the time spent on the design, which lasted eight months.
"We wanted to highlight our ethnic culture, but we also wanted new elements," explains Zhou Tengkao, who was responsible for designing the artwork. "We had five major revisions and finally settled on the dove, using it as a mosaic for a world map. In the lower part of the pattern, we adopted the images of the phoenix, the embroidered ball and the drum to represent Zhuang culture. Put together, it conveys the hope of all people in Guangxi for world peace and prosperity."
Zhuang embroidery, like most handicrafts, fell out of favor because of the intensity of manual labor. A small tapestry takes one worker three days to produce and sells for only 30 yuan ($4.43). Without counting the cost of material and with a worker making only a few hundred yuan a month, the sale price cannot offset the cost.
Zhuang is China's largest ethnic group, with 17 million people. Guangxi is officially called Guangxi Zhuang autonomous region, and preserving this tradition is more important than making economic sense out of it. In rural Guangxi, a bride has to include an embroidered quilt in her dowry. Young women would give small pieces that they wove for their loved ones as a token of love, especially at the songfest, an important local festival. Even though the days are long gone when every family had a loom and every woman could weave, in Binyang, a town one hour from downtown Nanning, a factory still weaves yarns the old-fashioned way.
In the outer room, there are seemingly machine-powered looms, each manned by one female weaver. A wall of single-color yarn faces the worker. The wooden shuttles have an elongated hole in the middle, where threads of various colors are housed. Despite the look of automation the looms are operated by the worker.