Chengdu Panda Breeding and Research Center
The giant pandas are not only a Chinese national treasure but are also beloved by people the world over. They are found only in Sichuan, Shaanxi and Gansu provinces. In total there are fewer than 1000, of which 80% are distributed within the territory of Sichuan province. Therefore, when visitors from home and abroad come to Chengdu, Sichuan Province one of their main objectives will be to see the giant pandas for themselves.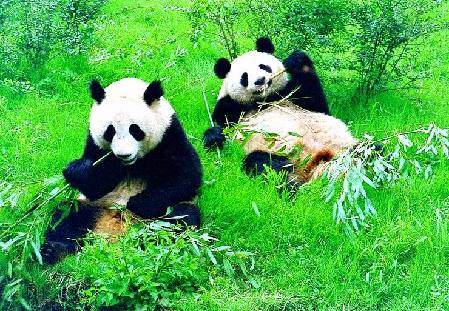 Located just 10km (6miles) away from downtown Chengdu, the Chengdu Panda Breeding Research Center has been created and imitated the pandas' natural habitat in order that they might have the best possible environment for rearing and breeding. The Center cares also for other rare and endangered wild animals. The Research Center covers an area of 560 mus (92 acres), 96% of which is verdure. Giant pandas, lesser pandas, black-necked cranes, white storks as well as over 20 species of rare animals are fed and bred there throughout the year. Verdant bamboo, bright flowers, fresh air, a natural hill scene and a beautiful artificial view are merged ingeniously at the base.
The necessary facilities for giant pandas have been completed and include a fodder room, sleeping quarters and a medical station. Additionally there is a Giant Panda Museum together with research laboratories and a training center. A great number of plants and as many as ten thousand clumps of bamboos and bushes have been cultivated to provide for the giant pandas' diet and habitat. The center is planning to expand by another 3000 mus (500 acres) of land on which to simulate a natural environment order to prepare the giant pandas bred at the center for release into the wild.