Xi'an City Wall
Overview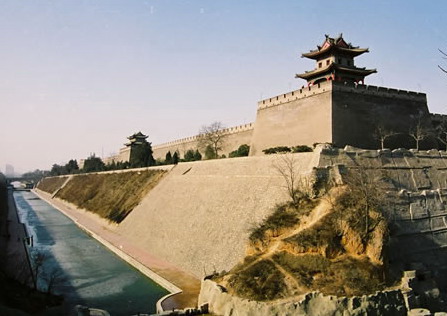 It's amazing how Xi'an history envelops you, when biking atop the old City Wall and enjoying a great view of the city. Xi'an's gray City Walls are imposing and built to keep out bandits and barbarians. The massive walls measure 12m high and 16m wide at the base, tapering to 12m to 14m and is 13.74km in circumference. Towers at each corner of the walls have defensive towers jutting out along the length of the walls. The surviving walls, built on Tang dynasty foundations, date to the Ming dynasty and were built during the 14th century. Parts of the wall have been destroyed and the wall is incomplete but many sections remain or have been rebuilt. You can get up on the walls at any gate at the compass points. The scenery at the south gate is the best.
Know more
The wall was originally built with layers of dirt, with the base layer consisting of lime and glutinous rice extract. The wall was restored three times, starting from the 16th century until the 20th century. The wall has four gates and stands 12 meters (40 feet) tall, 12-14 meters (40-46 feet) wide at the top and 15-18 meters (50-60 feet) thick at the bottom. It covers 13.7 kilometers (8.5 miles) in length with a deep moat surrounding it. It has a rampart at every 120 metre, a total of 98 ramparts. Each rampart is equipped with a sentry building.
North Gate Anyuan Gate, at the end of Welcome Avenue, is the must entry gate to the City from the airport and the central station. According to the historic records, when the honoured guests arrived at the gate, several armored guards would stand on the both sides, chanting "Open the Gate" at the same time and pulling the 2 scarlet doors out, meanwhile, guided by the ladies with lanterns in their hands, the officers would present the "welcoming wines" and issue the "visa" to every guest, then the guests would be allowed to walk on the red carpet, guarded by the officers and ladies to enter the city, then another officer would chop his "visa" with a scarlet seal. This is truly the special welcome ceremony of the Tang Dynasty.