5 Days Around Guilin & Rice Terrace Tour
What make this tour extraordinary?
Trekking in Longji from Pingan Village to Jin Keng Village. You will pass through the awe-inspiring terraced rice fields, experience the authentic lifestyle in Yao ethnic minority villages where women wears extremely long hairs, and watch the magnificent sunrise in the area.
Cruising down the Li River with excursions to Yangshuo and some fishing villages by the river.
Bamboo rafting, a relaxing and exotic way to appreciate the peacefulness and beauty of the Li River and its tributaries.
Impression Sanjie Liu in Yangshuo, a sensational outdoor night show directed by Yimou Zhuang who is the director of the 2008 Olympic Opening Ceremony. 600 plus actors will perform on a nature stage formed by the Li River and mountain backdrops. (Optional add-on activity)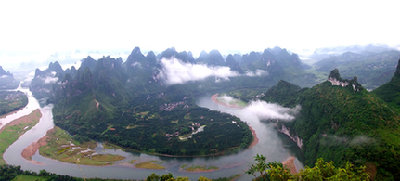 A whole bird view of the beautiful fishing village near Yangshuo
Tour Code: COT-GLT-N-35
For Whom: Normal Tourists
Best Travel Time: ALL Year
Dates: On your request
Starts/Ends: On your request
Meal(s) Included: Western-style buffet breakfast
Customizable tour: This is a recommended tour itinerary, which can be customized to fit your travel plan and budget.
Service: Experienced English-speaking tour guide; private transfer including airport pickup.
Price: Inquire the tour to receive quotation. Prices vary upon group size and required luxury level. Best value over money guaranteed for this tour.
Day-by-Day Itinerary
Day 1 Airport pickup, you tour guide escort you to your hotel. The rest of the day is free at your own leisure.
Day 2 Dragon back terraced field, Zhuang Minority's village
Day 3 Dazhai & Jinkeng (by car-40 minute/Hiking-4 hours),Yao Minority's village with Long hair woman show