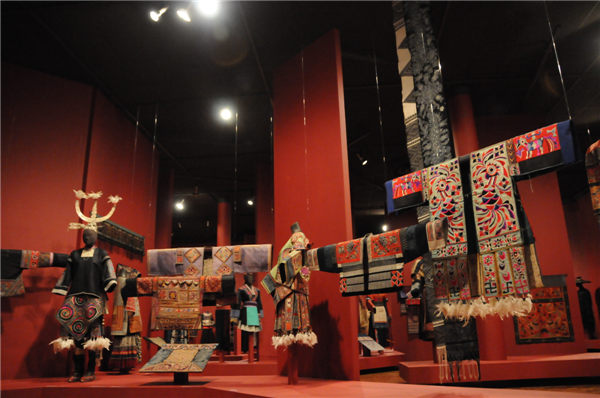 A series of exhibitions held in the United States, titled Writing with Threads, showcases Huang Ying-feng's years of dedication to the research of Miao people's traditional clothing.
AT A GLANCE
The Miao people can be traced back to a legend from 5,000 years ago. Chiyou, a mighty warlord, the ancestor of the Miao people, was defeated by Huangdi and Yandi, leaders of two tribes, from which the Han people are said to have descended, in a battle in Zhuolu in today's Hebei province in northern China.
After the war, the Miao people migrated several times until they eventually settled in southwestern China.
There are more than 100 subgroups of Miao people according to the differences of the colors of their costumes and locations of their villages.
The total Miao population is estimated at around 10 million, mostly living in southwestern China. Some subgroups of Miao migrated to Southeast Asian countries, such as Thailand and Laos, where they are known as Hmong.
During the Vietnam War, the CIA recruited and trained thousands of Miao people from Laos to fight against the North Vietnamese. After the retreat of the American army, Hmong people in Laos, facing the revenge of the Vietnamese, fled to Thailand and later were resettled in the United States, France and Australia by the UN Refugee Agency.
We Recommend: