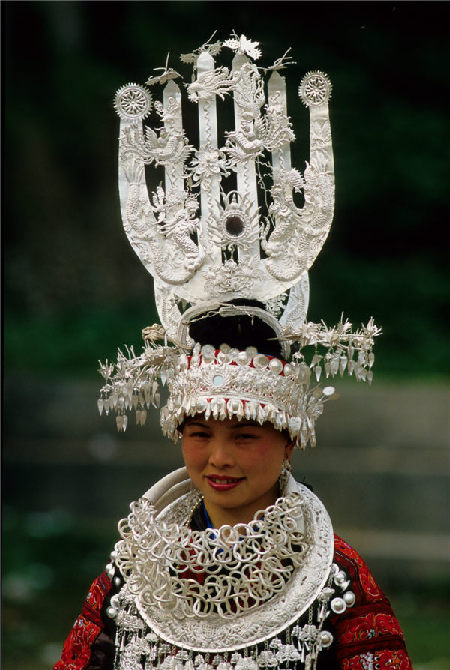 Miao people, living mostly in southwestern China, are known for their unique dresses and dazzling silver ornaments.
Hoping the world can learn more about the Miao people, Huang agreed to hold an exhibition in the US.
From September 2008 to 2009, the costumes of the Miao people were exhibited at the University of Hawaii Museum, then New Mexico and Wisconsin.
The series of exhibitions, Writing with Threads, was a great success. The stunning costumes were seen by more than half a million visitors including a special group that moved Huang.
"A middle-aged Asian couple drove six hours in storm to see the exhibition. The moment they saw the costumes, they burst into tears," Huang recalls.
"They were two of the 300,000 Miao people who are living in the US who were transferred as refugees after the Vietnam War."
Huang's research into the culture of the Miao also led him to make significant discoveries about the migration history of the Miao.
"In old songs sung by the elderly Miao people, a gigantic animal lives in the ocean and is often seen. I assumed they were referring to a whale," says Huang.
"But how could the inland mountainous people describe whales?" says Huang. "The only reason is the ancestors of the Miao people used to live by the sea."
We Recommend: