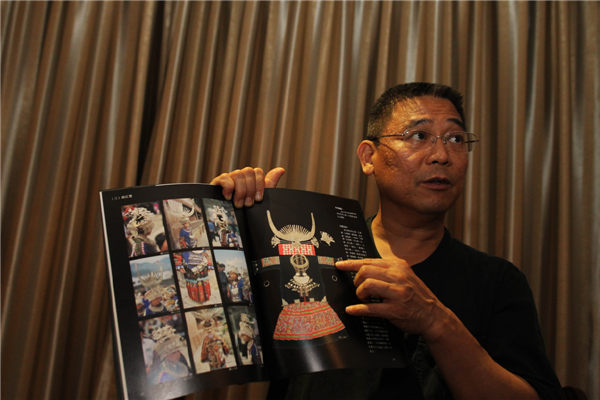 Huang Ying-feng's passion for the traditional costumes of the Miao ethnic group has led him to many inspiring discoveries. Photos by Zhu Xingxin/China Daily
A Taiwan architect has spent 20 years collecting the traditional clothing of the Miao people. His project is helping preserve the identity of the ethnic minority. Wang Ru reports.
In 1989, Taiwan architect Huang Ying-feng saw an amazing costume in Hong Kong. It was unique, with exquisite patterns in complex threads and shining silver ornaments.
It was a traditional costume of the Miao people, an ethnic group who mainly live in southwestern China.
"I was surprised by the beauty of the clothes and could not wait to see the people who made them," the 53-year-old recalls.
In 1991, Huang visited Guizhou in Southwest China, a mountainous province famous for its karst landforms and diverse ethnic minorities including the Miao people.
Huang fell in love with the colorful culture and hospitable Miao people. He loved their ancient songs, stilted wooden houses and unique customs and festivals.
But his favorite was their unique style of dress.
Over the past two decades, Huang has traveled from Taiwan to Miao villages in the southern part of Guizhou over 100 times, collecting costumes and documenting the mysterious culture.
Huang has written several million words on the Miao people and filmed thousands of hours of footage documenting every detail of their lives and ceremonies.
We Recommend: