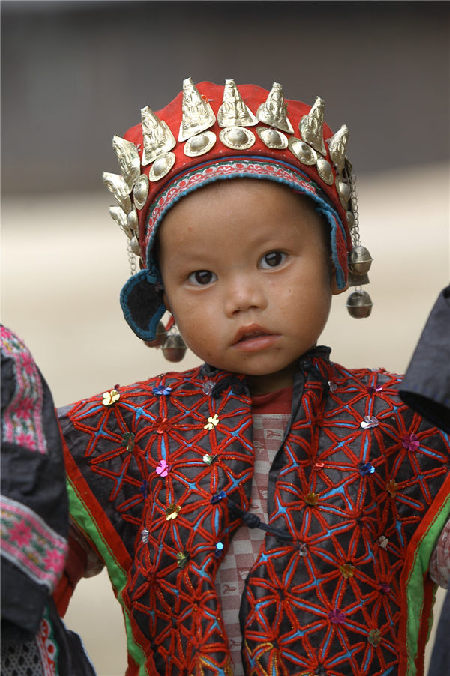 Miao people, living mostly in southwestern China, are known for their unique dresses and dazzling silver ornaments.
Huang discovered that among the archeological discoveries in Hemudu town in East China's coastal Zhejiang province, some patterns matched the ones he collected in Guizhou.
"It proved that a large group of Miao people migrated from the east coast to the mountains. In other words, they were fishermen," says Huang.
Huang says he is in a race against time to save the culture of the Miao people before it vanishes.
"Instead of learning the ancient skills and costumes of their ancestors, the younger generations of Miao prefer to live in the modern world. Many can't speak their ethnic language," says Huang.
In recent years, Huang struggled to find authentic handmade Miao costumes, which have been replaced by rough factory productions as cheap souvenirs.
But he is still optimistic about the future. "Some Miao people have realized that their culture is part of their soul."
In 2012, Huang was invited by the provincial government in Guizhou to promote folk tourism, as an expert.
"The costumes Huang collected are perhaps the most complete collection representing the history of the Miao people in Guizhou," says Fu Yingchun, director of the tourism bureau in Guizhou.
"His study is very valuable to Gui-zhou and the ethnic minorities of the region."
Huang is looking for a place in Guiyang, provincial capital of Guizhou, to build a museum. He says that he will exhibit his collection in the museum.
"Rather than saying it is a responsibility, I feel it is my good fortune to do something for the Miao people," Huang says.
We Recommend: