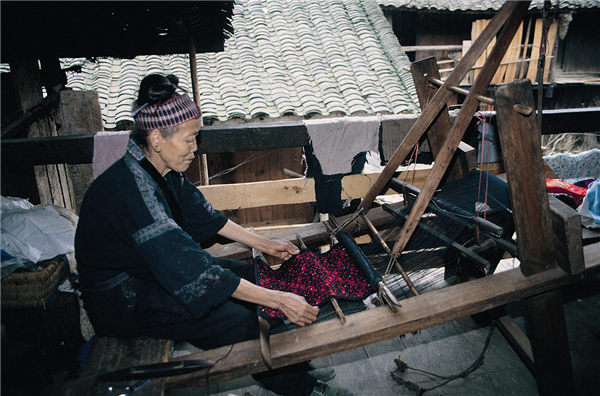 Traditional looms, once a common sight in every household, now are only used by the elderly Miao.
He has also collected about 16,000 costumes, some of which were made around 300 years ago. Some estimates have valued his collection at more than $80 million, but Huang has never sold a single piece.
Born in Taipei, Huang grew up in an isolated area surrounded by mountains. As a child he often walked into the mountains to spend time with the aboriginal tribes, known as the Gaoshan (high mountain) ethnic minority.
After graduation, Huang established an architecture firm. He helped design landmark buildings across the mainland and Taiwan, including the Shanghai Oriental Pearl TV Tower and Taipei 101 building.
In recent years, he has adapted some of the elements of the Miao people into his design. In Taipei, Huang built a museum named Changhe to exhibit his collections.
"It is a combination of Changjiang (the Yangtze River) and Huanghe (the Yellow River) - both are cradles of Chinese civilization," says Huang.
In 2008, when the University of Hawaii Museum was holding an exhibition in Taiwan, a team from the university visited Huang's museum.
Seeing Huang's large collection of the unique costumes of the Miao people, which were well-preserved and managed by a professional team, the museum invited Huang to hold an exhibition in the United States.
Being invited to hold an exhibition at a prestigious museum in the US is a dream-come-true for most artists and collectors, but Huang initially declined the invitation.
"I just wanted to collect the authentic costumes and record the fragile culture before it vanished," he says.
Over decades of traveling and living in the villages of the Miao people, Huang witnessed their living standards improve, especially the impact of the new motorways connecting the villages to the outside cities, offering more opportunities to young people and bringing in swarms of tourists to the villages.
We Recommend: