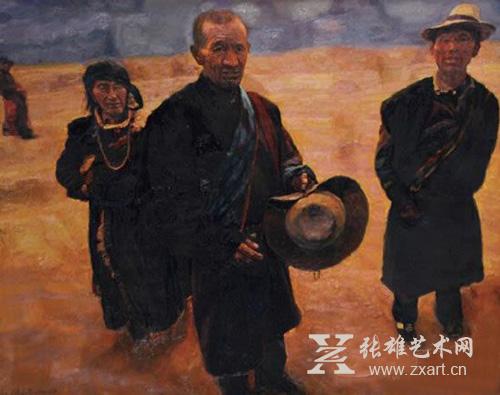 A realism painting exhibition is held at the National Art Museum of China. (Photo/CNTV)
When is art too close to life, and too close to home? A realism painting exhibition at the National Art Museum of China is trying to answer that question, with a look inside the lives of some of our country's top artists, as well moments when we stood together and overcame some of the biggest disasters the country has seen.
A moment too painful to remember yet too real to be forgotten. This collage of paintings depicts the before and after of the 2008 Wenchuan Earthquake.
Each one, a real scene that is now part of our collective memory, thanks to a group of 26 artists who decided to contribute in their own way.
"When the news of the earthquake got to the artists, they wanted to do something for the rescue and relief effort. We organized about 30 artists, but 26 were in China at the time. And they all flew in to Beijing and they were at the canvas day and night non-stop for seven days, and created this 20-meter long panorama of the Wenchuan earthquake. The painting was sold at China Guardian's auction for 33 million yuan and the sales went directly to the relief effort," says Guo Yuanchao, organizer of "Chinese Realism 10 Years".
The annual realism exhibition at the National Art Museum of China first came to life in 2005. Because realist painters only turn out about two to three pieces each year, a group of professors and chancellors from China's Art Academies each contributed a few pieces to a collective exhibition of paintings that year. In the absence of a commercial market for realist paintings at the time, the exhibition immediately gained a strong foothold, and soon attracted the works of other realist painters across the country.
"Many of these artists were in school when they first started painting and were influenced by what's happening then. Now, they're all in their late forties or fifties and much more mature. I think these paintings reflect the pinnacle of their artistry but also what they find most truthful in their lives," Guo says.
The exhibition features 450 works including sketches, drawings and drafts that have rarely been shown before. Artists whose works are displayed include Jin Shangyi, hailed as the founder of Chinese neo-classical oil painting, and Chen Yanning, who has painted portraits for Queen Elizabeth II.
"I'm visiting Beijing and thought that they have done a great job, from the content to the organization of this exhibition," a visior says.
And the art on the wall has inspired at least one girl to take up her pen.
"I love the ambiance here. I just hope that the exhibition would be more interactive and feature more installations in the future," a vistor says.
The "Chinese Realism 10 Year Exhibition" will be held at the National Art Museum of China from November 7 through the 17th.
We Recommend: