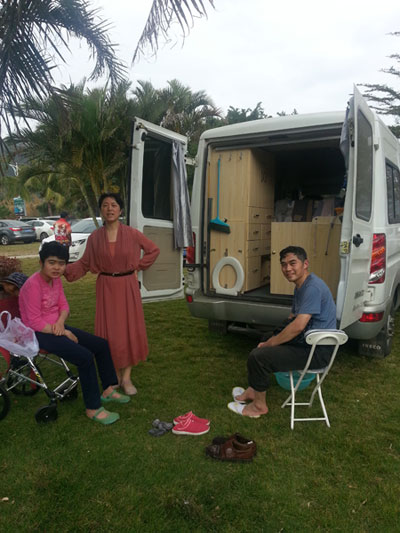 Liu Da'nian, his wife and daughter take a rest by their RV during one of their trips around the country. Provided to China Daily

When Lingzi was 16, Liu had taken her on a family trip by car. But it was far from enjoyable as the car was small for both the family and their luggage. Besides, taking care of her was difficult in a crowded vehicle.
She was often frightened in noisy places where they had stopped for a meal or to use public toilets. The toilets too were inconvenient for them as they had to wait in long queues for their turn. It was especially tough for Lingzi.
The RVs come with in-built toilets, which was a key feature that Liu wanted for his daughter's convenience.
When he heard about RVs from friends, he decided to buy one, too, but he did not have the money.
That, however, did not dampen his spirit. He read up a lot on RVs on various websites for about six months before he converted a family van into an RV.
In early 2013, the family took their first RV trip to a canyon near their home in Yangzhou. Since then, they have been to many places in Zhejiang, Shan-dong, Hainan and Shaanxi provinces, and the Tibet autonomous region.
"My daughter really likes when we travel in the RV," Liu says. "We can go anywhere and stop whenever we like."
Although more and more Chinese own RVs these days, not all of them get to spend much time traveling because - barring a few big cities around which campsites have been established in the past few years - China still lacks adequate camping destinations. Owners of RVs are therefore left with few options.
It is difficult to refill water, recharge electrical gadgets and deal with waste and sanitation issues when campsites are far away from each other, according to Tian Qun, director of China CTS Asset Management Corporation, a company that moved into the domestic camping market early.
We recommend: