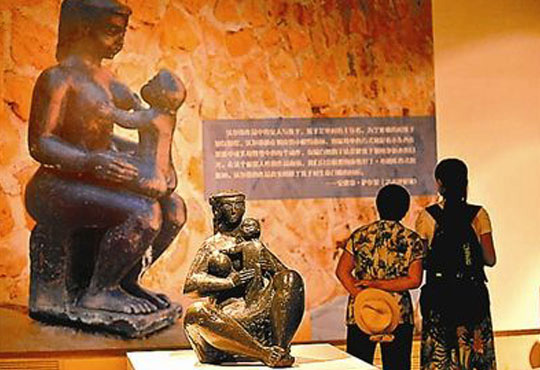 100 works by French sculptor Volti have arrived at Beijing's World Art Museum.

One hundred works by French sculptor Volti have arrived at Beijing's World Art Museum. The Mediterranean style featured in the sculptures and drawings is giving Chinese art lovers a rare view into the world of French art.
Forty-seven sculptures of various dimensions and diverse materials, 48 sanguine and gouache drawings, as well as five tapestries, the 100 art pieces by Volti have been collected from all over France and brought on their first journey to China.
Volti, originally named Voltigerno Antoniucci, was hailed as one of the ten greatest sculptors in the world.
"Volti is in the high tradition of sculpture... So the mixture of the two makes him very important," Catherine Fromichague, Professor, Paris-Sorbonne University, said
Titled 'Volti: An Architect of Femininity,' the exhibition has showcased a art style that is unfamiliar to the Chinese visitors. It is also part of the celebration events that pay tribute to the 50th anniversary of the establishment of the diplomatic relationship between China and France.
French ambassador Sylvie Bermann and officials of the Chinese Ministry of Culture attended the opening ceremony and visited the exhibition. The artist's son, Nicolas Antoniucci, who now works as the president of the Volti Foundation, was also present.
The loving care and spirituality of women depicted through Volti's works demonstrate the inner life of the French artist and his appreciation of femininity.
"The exhibition of Volti's works has refreshed our knowledge of contemporary arts. It opens a window to the art world and its evolving history" Wang Limei, Curator, Beijing World Art Museum, said.
The exhibition is open in Beijing from Tuesday to the middle of August, before traveling to Tianjin, Chengdu, Wuhan and Shanghai.

We recommend: