The Sister Peak and the Aizhai Bridge in Jishou. The bridge built in 2012 facilitates the transportations for the Miao and Tujia ethnic people dwelling in Aizhai. Wang Fang / For China Daily
Photo show
The "Magnificent Xiangxi Photo Exhibition" brings all that and more, showing an incredible world of scenery, folk customs and achievements since the reform and opening-up began in the late 1970s.
Sponsored by the Information Office of Hunan provincial government and the Hunan Photographers Association, the exhibition displays the best of 20,000 works submitted.
It offers unforgettable moments, captivating stories and scenes including Wulingyuan and Langshan mountains, two UNESCO world natural heritage sites.
Neighboring scenery is noted for more than 3,000 quartzite sandstone pillars, many more than 200 meters high, along with numerous ravines and gorges with streams, pools and waterfalls.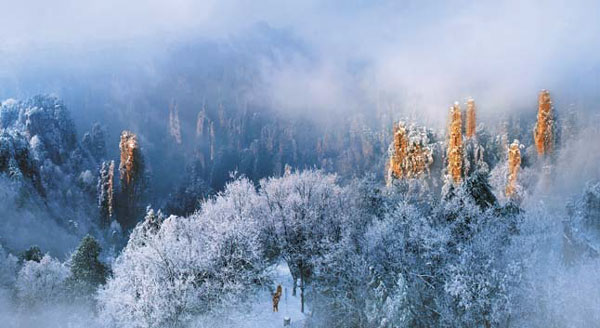 Zhangjiajie turns into a fairytale world in winter. Lu Qixing / For China Daily
Two-thirds of Xufeng Peak and Wuling Mountain are covered by forests.
Photographers discovered the breathtaking environment for growing so-called icy sweet oranges, golden autumn pears and the Jingzhou red bayberry.
Photographers also took boats on the Ruanjiang and Youshui rivers, capturing in pictures of the rivers, waterfalls, and range upon range of mountains.
We Recommend: