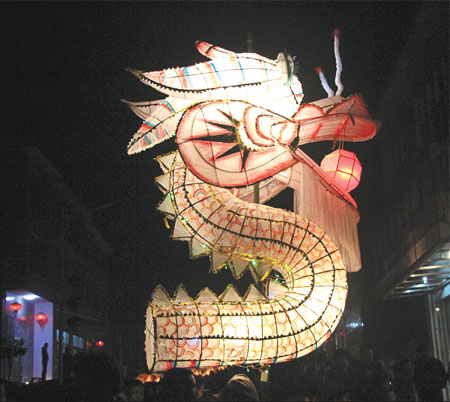 Exquisite head of the plank dragon venerated by the local Tujia ethnic people.
As the totem of the nation, the dragon is worshiped by many Chinese - the Hans and other ethnic people as well.
The tradition is especially popular in the Central China province of Hunan, whether it is in rituals, entertainment or just daily life.
The importance of farming in the agricultural province helps continue the dragon affinity, said Sun Wenhui, an expert in intangible cultural heritage in Hunan.
In the south of Dongting Lake and the Yangtze River, sufficient water needed for farming is regarded as a gift from the dragon, the god governing rainfall, Sun explained.
He added that locals think the dragon is also a supernatural creature that does not always behave with good will. That is one explanation for Hunan's long history of severe floods.
Ethnic Miaos in Chengbu county use a 'flying dragon' that rises as the performance continues.
But he said "people never complain - the only thing they can do is to please" the dragon.
Numerous rituals have been held to pay respect and offer sacrifices to the awesome force.
"Dragon worship usually begins with rituals during Spring Festival - the lunar New Year when farmers start to plan farming for the year ahead," Sun said.
"We offer sacrifices to the dragon with the aim of having a good harvest - praying for adequate rainfall and freedom from disasters," Sun added.
 We recommend: