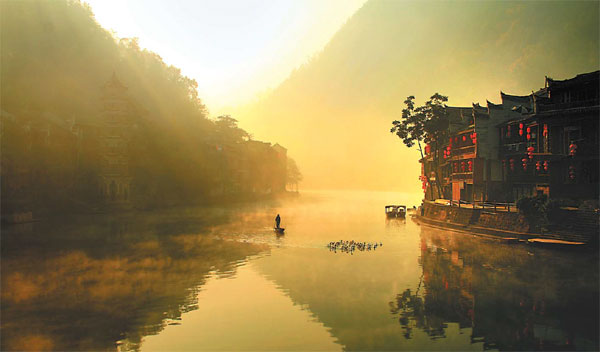 The Tuojiang River in Fenghuang, which New Zealand author Rewi Alley termed "the farthest city from the public and nearest to the heart". Yang Dongqiao / For China Daily
The picturesque cities of Zhangjiajie, Huaihua, Shaoyang and Changde cities and surroundings in western Hunan province, or the Xiangxi region, are considered a "golden route" for tourism due to their scenery, culture and history, said local officials.
As well, Fenghuang, or phoenix, is "the farthest from the public and nearest to the heart", according to New Zealand author Rewi Alley, who also wrote that it "is one of the two most beautiful towns in China".
The country's first ancient commercial town Hongjiang, which was vibrant as early as the Spring and Autumn period (770-476 BC), still has an array of well-preserved ancient buildings dating back to the Ming (1368-1644) and Qing (1644-1911) dynasties.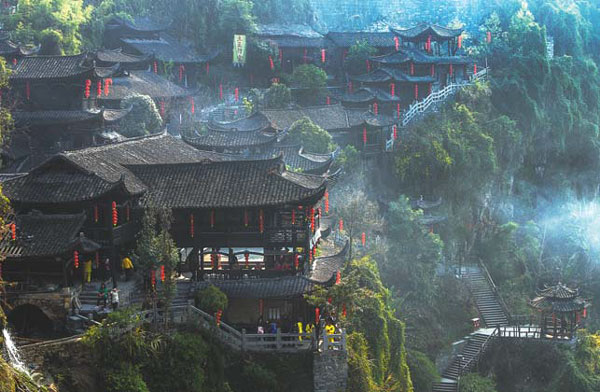 Yongshun was home to Tusi cheiftains that governed parts of Hunan, Hubei, Guizhou for 800 years beginning in the 10th centrury. Li Yongsheng / For China Daily
In the fairytale Zhangjiajie, tourists can experience a landscape said to have inspired some of the settings in the blockbuster film Avatar.
Travelers can also seek the secret of longevity in Mayang, where 45 residents are now more than 100 years old.
As well, relics of Daqin Library Cave found deep in the mountain date from the end of the Qin Dynasty (221-206 BC), the first dynasty of China.
The world's oldest academy of classic learning - Longxing Lecture Temple built in the Tang Dynasty (AD618-907) - sits on a mountain in the town of Ruanling and its still home to academics.
We Recommend: