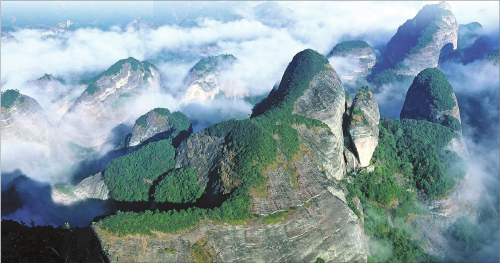 Of all the scenic spots featuring landscapes called Danxia landforms, the Liangshan Mountains in Xinning county is regarded by many geologists as the most spectacular and beautiful.
Province draws on culture, history to drive the industry
Hunan's tourism industry will continue to develop at a rapid pace in the near future, said a senior provincial tourist official at a recent news conference for the 2013 Hunan International Tourism Festival.
The festival runs from Sept 12 to Oct 29 in all the cities and prefectures in Hunan.
Zhang Zhiheng, director of the Hunan Tourism Bureau, predicts that the province's total tourism revenue this year will reach 260 billion yuan ($42 billion), an increase of 18 percent from last year.
He further predicted that the tourism revenue for 2015 will hit 360 billion yuan, accounting for more than 14 percent of Hunan's gross domestic product.
With its unique landscapes, colorful ethnic cultures and modern charm, Hunan is a province that is on the top of the agenda for many tourists.