Fireworks herald the coming of the Chinese Lunar New Year at Juzi Island in Changsha city.
Home to several ethnic groups, Hunan province is rich in cultural relics, lending a festive character to its folk rituals for celebrating the Chinese Spring Festival.
Han tradition
It is customary for many Chinese to paste Spring Festival couplets, stay up all night on Chinese lunar New Year's Eve and pay visits to relatives, but Hunan people have a special ritual.
Worshipping and welcoming the kitchen god that helps ordinary people in Chinese folk stories is a respected custom in Hunan. From the 24th day of the last month in the Chinese lunar calendar, Hunan people will begin cleaning rooms to create a fresh, new start of the coming year.
In many places in the province, this day is called "kitchen day," which raises the curtain of the Spring Festival.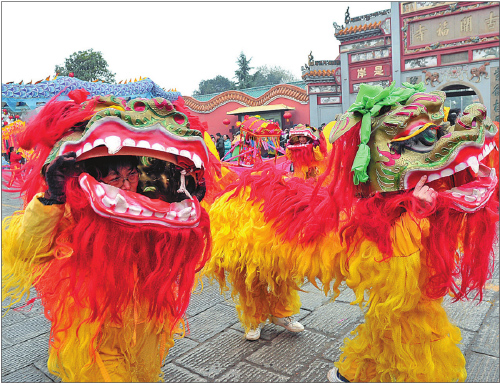 Dragon dances are among the most popular attractions in the temple fair at the Kaifu Temple.
As there is a belief that there should be no use of a knife during the first five days of the Chinese New Year, normally people begin to butcher pigs in the last ten days of the past lunar year. After salting, drying and smoking, the pork is made into preserved meat that is a traditional "must-have" for Hunan people during the Spring Festival time.
We recommend: